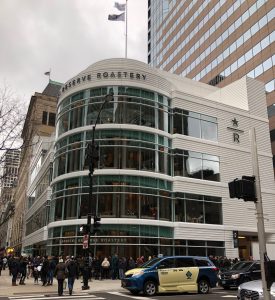 2019年11月15日(金)の午前9時に、ダウンタン・シカゴの「魅力の1マイル」ノース・ミシガン・アベニューに35,000平方フィートという世界最大のスターバックスがオープンしました。オンライン雑誌シカゴ・イーターによると最大キャパが1,000人のスターバックスは開店から20分以内に満員になり、入店を待つ数百人の長い列が続きました。
開店初日に訪れた10,000人が、世界最大のコーヒーテーマパークでコーヒーを淹れるバリスタたちの姿や焙煎所を見学できる螺旋状の吹き抜けを回るエスカレーターに乗って店内ツアーを経験、窒素ジェラートなどのスイーツや、カクテルが飲めるバーを楽しむなど、シカゴにセンセーションを巻き起こしました。
チーフ・デザイナーのジル・エノモトさんは、「1階から5階まで、コーヒー作りの『真に美しいストーリー』を伝えることをビジョンしました。気がつかないうちに5階まで歩いていて、驚異的な素晴らしい旅をしたことに気付き前向きな気持ちになるでしょう」と説明しています。
このストーリーはスターバックスの定番であるユニークなアートワークとカフェの美的感覚を通して語られており、エノモトさんはこの居心地の良い雰囲気を暖炉、シカゴ市への「ラブレター」、地元のアーティストによる3点の手描き壁画をフィーチャーして創り出しました。シカゴのアーティストによる絵画と彫刻がそれぞれのフロアーに活気を与え、中央にある高さ56フィートの金属製パイプで各階にコーヒー豆を運んでいます。
同スターバック店舗の雇用数は約200人と、スターバックス・リザーブ・ロースタリーとしては米国で3番目の規模です。イリノイ州の風力発電を使用した100%再生可能エネルギーで電力を供給する340あるイリノイ州内スターバックスの最新店舗になり、年中無休で中西部から訪ねてくるお客様に贅沢な体験を提供しています。
建築、ユニークなスイーツ、そしてシンプルに美味しいコーヒーといった複数の魅力を提供するこのユニークなスターバックスはきっとシカゴの名所になることでしょう。
Activ8は、こういった革新的で進歩的なお店が弊社本社の所在地のシカゴの街にできたというエキサイティングなニュースを、今後もみなさんとシェアさせていただきます。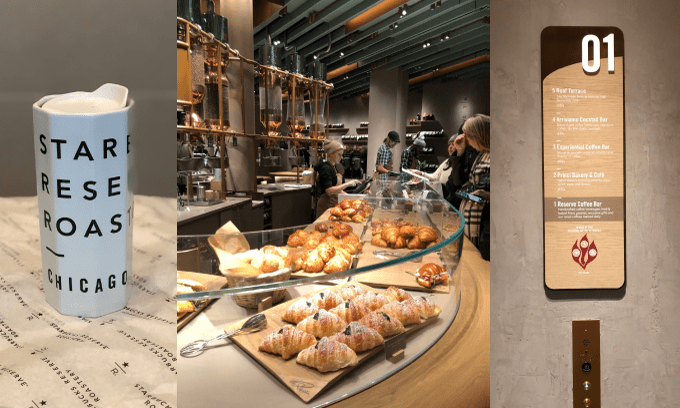 At 9:00 am, on Friday, November 15, 2019, the world's largest Starbucks opened at 646 N. Michigan Ave., on Chicago's Magnificent Mile. With a maximum capacity of 1,000 people, the Eater Chicago reported that the Starbucks was full within 20 minutes of opening, with hundreds still waiting outside to enter. The 35,000 square-foot space hosted almost 10,000 visitors on opening day, featuring sensations such as the world's largest Coffee Theme Park, nitrogen gelato, pastries, a bar, merchandise, and the curved escalator.
The head designer, Jill Enomoto, explained that Starbucks "envisioned this five-story experience that would pull people from the ground floor all the way up and tell this really beautiful story about the growing of coffee. Before you know it, you walked five floors and you've gotten this really amazing journey, ever upwards." This story is told through the unique artwork and café aesthetic that is a staple in Starbucks locations, as Enomoto created this cozy feeling featuring a fireplace, a "love letter" to the city of Chicago and three hand painted murals from local artists. Paintings and sculptures by Chicago artists liven each of the floors, while surrounding a 56-foot tall metal cask in the center that distributes coffee beans to each floor.
This is the third Starbucks Reserve Roastery in the United States employing nearly 200 people, and is just the latest of the 340 Illinois Starbucks' to be powered on 100% renewable energy from wind power generated locally in the state. Open daily, this Starbucks Reserve Roastery allows customers from all over Midwest to fully experience all that this extravagant location has to offer. Whether it's the architecture, unique sweets, or simply just a good cup of coffee, this unique Starbucks Reserve is on track to be a Chicago city landmark. Activ8 is happy to share this exciting news about an innovative and progressive store in our city!