TSUNAGU: To Connect. Whether it is connecting employers to job seekers or bringing different cultures together, we at Activ8 value the bridge-builders who make our world a better place every day. Our new series, TSUNAGU, will feature inspirational people who connect the U.S. and Japan through business, education, art, culture and more.
Susan Miyagi McCormac, Founder of JapanCulture●NYC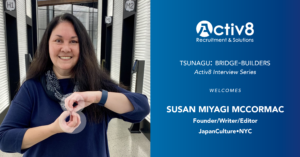 Over a decade ago, Susan Miyagi McCormac founded JapanCulture●NYC, which strives to be the Big Apple's leading English-language resource for Japanese culture and community.
Growing up in small-town North Carolina, McCormac knew little about her Japanese heritage. Though she was intrigued to know her mother came from Okinawa, she had not thought of her mother's Japanese heritage as her own. But as an adult, she became a "born-again Japanese American," a term coined by a fellow Japanese-American friend, who, like McCormac, fell in love with his family's Japanese heritage later in life. 
McCormac did not even begin the fascinating and challenging task of learning Japanese until she was 30 years old. But her language and cultural studies brought her to an ever-deeper appreciation of her heritage, and JapanCulture●NYC is her way of helping strengthen Japanese-American and Japanese culture and community close to home.
Bridging the Varieties of Japanese Culture 
 One of the core goals of JapanCulture●NYC is to help connect people to Japanese culture's diverse elements. For example, if someone interested in anime or manga finds her website, it would also be easy for them to take a deep dive into nearby Japanese restaurants. Someone with a love for sake could also discover a new Japanese art exhibition. McCormac hopes that by introducing people to new aspects of Japanese culture through JapanCulture●NYC, her work will "broaden people's experiences of what Japanese culture entails."
McCormac knows her vision for her platform well. "If people do a deep dive into 'Japan in New York,' they find me and are able to discover all these amazing things about Japanese culture that are right here."
Americans Can Learn from the Japanese Sense of Seasonality
McCormac believes Americans have much to learn from the Japanese emphasis on the aesthetics of the seasons. "Americans can learn to slow down and appreciate nature in everything we do," she says. Rather than constantly focusing on work and productivity, Americans could learn from the Japanese ability to slow down and focus on the natural world.
"Every event, every tradition in Japan reflects upon the season, and we slow down thinking about that," McCormac says. Whether it is participating in a tea ceremony or the annual tradition of Obon, these temporal events allow Japanese people to take a deeper appreciation into complex ideas, such as spirituality and the question of why we are here, that are more difficult to come by in the American way of life.  "If we follow along with the seasons, we appreciate time passing a little bit more."
Community Has Helped Her Grow
McCormac has built relationships with many members of New York City's Japanese community, including her mentor Julie Azuma, President of Different Roads to Learning and Vice President of the Japanese American Association of New York (JAANY). Over the years, McCormac has grown to serve the community through leadership roles like board vice president of JAANY. As a result, McCormac no longer simply publicizes community events; she now takes a role in organizing them. 
One of the most fulfilling events she has ever coordinated was a volunteer initiative titled "Project Bento." During the height of the pandemic lockdown, McCormac organized more than 30 volunteers to deliver bentos to homebound seniors. "It was a true community effort," she exclaims. Through efforts like this, McCormac is able to give back to the community that helped her grow. 
Seek Advice in Order to Grow
McCormac's advice to others is to let go of fear, however gradually. "Fear holds us back from doing a lot of things," she says, "but just keep chipping away at it, and hopefully you will blossom into the person you want to be!" In her own career, she has learned to let go of fear and self-doubt in part by relying on others' wisdom and guidance.
McCormac has worked on conquering her own fears by starting small. Taking on smaller challenges like introducing herself, volunteering as a way to get her foot in the door, and reaching out to others with questions have immensely helped her grow in her capacity to foster a deeper Japanese community in New York City. 
◆JapanCulture●NYC
www.japanculture-nyc.com