TSUNAGU: To Connect. Whether it is connecting employers to job seekers or bringing different cultures together, we at Activ8 value the bridge-builders who make our world a better place every day. Our new series, TSUNAGU, will feature inspirational people who connect the U.S. and Japan through business, education, art, culture and more. 
Tony Iritani, President, Canyontravelers / JABA Las Vegas Inc.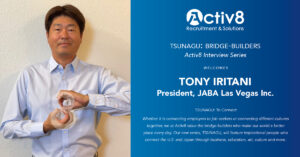 Tony Iritani runs the  "JABA Las Vegas" tour company in Vegas. The company name "JABA" is an abbreviation for "JAPAN AMERICA BUSINESS ASSISTANT." He chose this name with the intention to do business that connects Japan and the U.S. 
Tony was born and raised in Chiba Prefecture, Japan. When Tony was exploring his college options, his father, by then living in Los Angeles, encouraged him to come and join him. Tony wasted no time in taking the opportunity. Though he spoke no English, he was determined to give himself a chance in the U.S. 
For six years, he worked at a Japanese restaurant, while pursuing his goals to prepare for U.S. college entrance and gaining permanent residency. At the age of 24, he obtained permanent residency and left his job to pursue a part-time job as a tour guide for travellers coming from Japan to Los Angeles.  
"Glad you were our tour guide!"
Here's how Tony remembers that period of his life: "At that time I worked day and night during the heyday of package travel due to the strong Japanese yen against US dollars. It was hard but fun. And pay was on a commission basis so it was rewarding." The work was rewarding both financially and personally. "Glad you're our tour guide!" his customers told him. Those words kept him going through the long days and nights on the job. 
"I really like the Japanese people who travel overseas. I was so happy to have them enjoy the wonderful places in America, and when I spent time with Japanese customers, I felt like I was in Japan. Thanks to that, I ended up postponing my university entrance," Tony laughed. 
In 1998, a year after he got married, Tony moved to the company's Las Vegas branch and started specializing in the city. That year, he made another big decision: to apply for citizenship. This was the moment when he decided to live in America for good. "I spent my twenties without thinking about my future very seriously. People around me returned to Japan because life in the U.S. did not work out for them. Some people had a mindset that it is OK to go back to Japan if it didn't work," Tony recalls. "I was influenced by them and lived [with] similar feelings. I may have prepared an escape route without knowing it. I then realized that I couldn't succeed anywhere unless I rejected the escape route and decided to obtain citizenship and refused to retreat."
In 2001, when Tony's eldest daughter was born and his work was going well, the 9/11 terrorist attacks changed his life completely. The company he worked for went bankrupt. His job hunt went on for a long time, leaving him impatient about his next steps. Still, he rebounded. About half a year later, when tourists began gradually returning, industry contacts who valued his work started asking for his services. 
Two years later, Tony went independent. For some years, his company prospered and grew. But then the COVID-19 pandemic hit. As the business owner, Tony had to be responsible for all finances of the company. In order to sustain the company somehow, he had to make the hard decision to lay off all the employees. Today, a small number of travellers, little by little, have started to return.
"I had many mistakes and hardships, but I don't remember feeling frustrated, and I have no regrets in my life," says Tony. "Because I am a negative and anxious person to begin with, whenever a problem occurs, I try to think I was fortunate because it could have been worse."
In this digital age, how does a tour guide continue to connect two countries?
"Now it's a convenient time, as you can learn about the United States easily via online while in Japan. Still, to actually come to the United States and use all of your five senses to feel the atmosphere and sensations that you cannot know with knowledge alone enriches your outlook on life. I hope that I can share that feeling with Japanese people through my travel work," Tony says.
It has now been 35 years since Tony set foot in America without knowing anything. Many people have connected him with opportunities. The people in the Japanese restaurant where he held his first U.S. job, who helped him with permanent residence status. The tour company that helped him find his career passion. His customers who reached out to him when he was having a hard time. All of these people helped make Tony who he is today. 
"I did not come to America because I loved this country, but I love America since I moved here. Interestingly, since I love this country, I realized how wonderful Japan is, and I become more proud of being Japanese. I want to continue to connect the two countries and spend time surrounded by 'good places,'" Tony says. 
Finally, give some advice for those who want to start a new career.
"If you want to stand on top of others, work harder, learn and work harder. You can't be ordinary. And be honest with everything. It's the same in Japan and America." — Tony Iritani  
◆JABA Las Vegas Inc.
Address: 4625 Wynn Rd Suite C-101A Las Vegas, NV 89103
Phone: 702-217-3658 | Website: www.canytra.com
Instagram @canytra | Twitter @canyontravelers