TSUNAGU: To Connect. Whether it is connecting employers to job seekers or bringing different cultures together, we at Activ8 value the bridge-builders who make our world a better place every day. Our new series, TSUNAGU, will feature inspirational people who connect the U.S. and Japan through business, education, art, culture and more.
Saku Yanagawa, Stand-up Comedian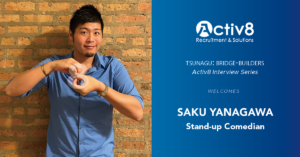 Saku Yanagawa is a Chicago-based stand-up comedian who has performed in over 10 countries and in famous comedy clubs such as the Laugh Factory in Chicago. Handling over 450 live shows a year, for Saku comedy is "a tool that heals divisions and connects people." He discovered his passion for the world of comedy as a result of an unplanned opportunity that presented itself seven years ago.
If baseball won't work out, then why not become a "Major League" comedian!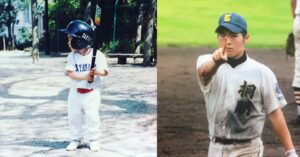 Since he was a child, Saku had always wanted to be a professional baseball player, but in college he suffered a devastating injury that left him with no chance of becoming a professional player. At a loss wondering "What can I do now?" one TV show became a turning point for him.
"I was watching George Tokoro's show, Waratte Koraete! featuring a Japanese comedian in New York City. That was when I decided that 'This is it!' The next day, I ditched class and got on a flight to New York."
Saku went around to 16 comedy clubs without any appointments and offered to wash dishes or do anything he could to stand on stage. He eventually landed an opportunity at two locations for open mic nights.
"My English was bad, but the energy that I was trying to convey must have been stronger than anyone else's, and some people laughed." Then, a comedian from Chicago who was also performing at these stages invited Saku to go to an open mic at The Second City in Chicago. The next day he flew to Chicago. "After performing at an open mic, I immediately fell in love with Chicago and its comedy scene."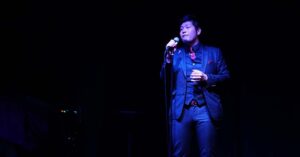 All the "dots" that pushed me forward are connected by lines. 
"Ever since I was a kid, I loved movies and music. In my middle and high school days, when my baseball practices were tough, I would borrow movies and CDs from the school library and sought refuge in them at home. My favorite was The Blues Brothers, which was filmed in Chicago. Movies, music and comedy all overlapped within me."
Those movies and music became hope for Saku and his future when he was at a loss and could no longer play baseball. "As a result, now that I am connected to Chicago, which was in the movie, where they (the Blues Brothers) stood on stage at The Second City, I felt such an important meaning in that I am able to step on the same stage."
Combining writing, directing, and acting: the appeal of stand-up comedy 
As a Kansai native and a fan of comedy, Saku always had an interest in performing arts and decided to pursue a major in dramatic criticism, attending Osaka University which offered him theatre and music studies courses. During his third year, Saku initiated an extracurricular research project to understand performing arts from a global perspective by producing comedy works internationally. He received a grant from his school and travelled back and forth between Japan and the U.S. while producing and performing his own comedy pieces. He was a strategist! Saku won the university's best research award of the year for his project. He graduated the following year and started to professionally pursue stand-up.
"The amazingness of stand-up comedy is that you write the script, perform it and are the main character. Therefore, you must be the best at all three of those roles to succeed. This method of portrayal was exactly what I wanted to do. In addition, you have to take all of the responsibility, so if the show goes well, it is thanks to the audience, but if it goes poorly, then it is all my fault. I love that simplicity."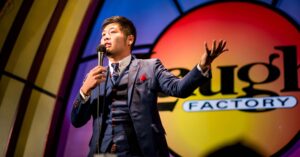 I am the captain, and the audience is on a boat. Taking them out on a voyage of laughter is my job. 
However, in a foreign country where the language, culture and points of laughter are completely different, it must take a considerable amount of guts to make people laugh.
"When comparing it to Japan, American comedy has a stronger sense of violence. First, the terms are different. In English, you say 'punchline,' 'kill,' and 'bomb,' while in Japanese it is completely different. Punch them and kill them. If you mess up, you drop a bomb on the audience and make them unhappy. That's how nerve-wracking it is."
Saku has learned that even if it is the same information, it is guaranteed that all of the audience members will take it in a different way. And if they are from a different state or country, they will also have a completely different reaction. "When I did a show in Texas, a Heineken bottle was thrown at me and shattered against the wall behind me. 'Wow, this is like the Blues Brothers!' " Saku says, laughing.
So how does Saku win over his audience? "When I am on the stage, it's like I am the captain of a ship. I have to connect with the audience and put them all on the same boat, and from there is where the voyage starts. The trick to getting them all on the same boat quickly is to have a strong grip on my own energy. Trust the audience, and release myself. Completely presenting myself as who I am, delivering my own perspective, and changing it to laughter is my job. If we are all on the same boat, even if it rocks a little, I can still take them to their destination."
Getting on the stage without knowledge is a crime. You are not qualified to get on a stage without studying. 
At age 29, one thing that Saku is proud of is that he has continued to keep making high-quality and timely works of comedy. To keep up, studying is essential to Saku.
"Every day I study. Every day I make sure to read at least eight newspapers. I can't be ignorant about current affairs in order to make people laugh. I also go out and talk to people as much as possible. I also test out some of my jokes on other people at bars while drinking. Instead of packing in knowledge, I have to be able to produce wisdom. In short, becoming 'street smart' is very important."
Saku learned that it's important to be courageous and not to be afraid of failure as well as the tenacity to not fall for free. "Out of 10 swings, I might only hit one. But for that one hit, the only thing I can do is practice. And when I stand in the batting box, the only thing I can do is swing. Even if I strike out, the next turn at bat will be different depending on whether you miss the ball or hit a foul ball. As long as you try your hardest, the next turn at bat will be different. This is something I learned in baseball."
Frustrations come every day, but don't blame them on other people or your environment.
Every day brings its own new challenges for Saku. The most difficult frustration Saku has faced was when his U.S. visa was denied. He attempted to get an Artist Visa, where he would be allowed to enter the country as an artist so he could settle in as a stand-up comedian. He prepared all of the necessary documents and forms, but his application was ultimately rejected. "My heart broke into pieces. When I emailed a close friend, Dave Specter (a native Chicagoan who has become a TV star in Japan), he responded immediately and said, "Don't worry, if the Visa is no good then just use Mastercard." This joke really made me feel better, and if it wasn't for those words, I think I wouldn't be where I am now."
Saku was eventually able to acquire a visa. "One thing I really have taken to heart since coming to the U.S. is to not rely on other people. If something doesn't go well, blaming and becoming hateful towards other people will affect your mental health. Instead, I rely on myself. I tell myself that I can do that by myself, and if I end up not achieving my goal, it's my fault."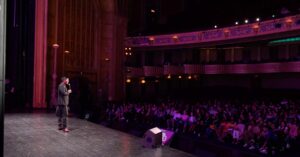 Dream of becoming the first Japanese cast on SNL
Saku is driven to achieve his goals and knows what he wants to make of himself and his future career. "My goal is first to appear in a stand-up comedy special show streamed internationally within three years. Then, before I turn 35, I want to perform on Saturday Night Live as a regular. Within eight years, I want to do a solo live event for 10,000 people at the Budokan (a major event venue in Tokyo)."
Additionally, Saku wants to create a place for the art of stand-up comedy in Japan. "Stand-up comedy is a place where you can laugh at opinions other than yours, and create discussions that ease tensions between differences. As a result of this, it is important that I am able to gather many young people and connect to them. With the energy that these young people possess, I want to create a new movement that will grow the stand-up comedy scene in Japan and shake up history."
A message to people who are pursuing a new career:
"Be sincere and gather a following, and do what you want, as much as you want to do it, as much as you can. If after that, it still doesn't work out, then you can run away. But wherever you run away to, take the No. 1 spot there! That is my advice. There will be many hints that roll around which show you what you want to do. And your past life experiences will also be a big hint."
Profile: Saku Yanagawa

A stand-up comedian based in Chicago. Saku has performed in over 10 countries including those in Europe and Africa. He has appeared in comedy conventions in Seattle, Boston and Los Angeles and has won an award. As a headliner, he tours in the U.S., and locally, he is recognized as a "Rising Star of Comedy." In Japan, he appeared in the Fuji Rock Festival. In 2021, he was chosen as one of the 30 under 30 by Forbes magazine. His book "Get Up Stand Up-stand (up to fight)" in Japanese is on sale.
Saku Yanagawa Office Site: sakuyanagawa.com