TSUNAGU: To Connect. Whether it is connecting employers to job seekers or bringing different cultures together, we at Activ8 value the bridge-builders who make our world a better place every day. Our new series, TSUNAGU, will feature inspirational people who connect the U.S. and Japan through business, education, art, culture and more.
Marian Goldberg, Founder of "Marian Goldberg Marketing Communications (MGMC), LLC"
With over 20 years of experience in the Japanese tourism industry, Marian Goldberg has become a multifaceted expert on promoting Japanese culture and thrives upon connecting like-minded people together through the formative experience of travel.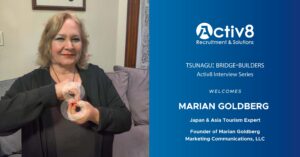 Seizing New (And Unexpected) Opportunities
Goldberg is no stranger to taking on new roles and opportunities wherever they may come, as she has done throughout her career. After graduating from Stony Brook University in New York with a degree in art history and criticism (minor in History), her first job offer provided her the opportunity to take free tourism graduate classes. Then, after completing her master's degree in travel & tourism marketing management and working several years in travel television production, travel editorial, tourism education, and travel marketing, she was hired as the North American Public Relations Manager for the Japan National Tourism Organization (JNTO). After this introduction to the beauty and culture of Japan, her passions continued to take her career in directions she never could have predicted. "I never thought I would become an expert on Japanese tourism, but now I have been marketing tourism to Japan, on numerous levels, since 1997," she said. Currently based in the New York City metro area, over the years, Goldberg has worked in various roles related to Japan tourism promotion. She was the U.S. representative for the city of Kyoto, a tourism consultant and advisor to Japanese travel businesses and government agencies, a guest speaker at travel conferences, consumer travel shows, and in university tourism classes. She is also a Sake School of America certified sake and shochu adviser.

Similarities Create The Desire To Learn About New Cultures
From Goldberg's perspective, the range of political and economic similarities between Japan and the U.S. lays the framework for an intrinsic interest in one another's differing cultures. Being both democratic nations with large economies interested in helping its citizens, Goldberg identifies Japan as a great mid-point in East Asia for the U.S. to interact with internationally and, more importantly, without fear. "Given that China is massive in Asia and Russia is also imperious on that side, Japan is an important, large, and friendly economy in between the two that we can have a welcoming relationship with, where we explore each other's cultures."
On a cultural level, Goldberg believes that many Japanese people seem to have a fascination with the "American lifestyle" and its embodiment in bustling cities like New York, Los Angeles, San Francisco, and Chicago. She has also found that some younger Americans have developed a growing interest in all aspects of Japanese contemporary culture, such as anime, J-Pop, electronics, one-of-a-kind cuisine, and more.
"I'm A Connector!"
Bringing people together, whether inadvertently or intentionally, is what makes tourism so powerful for Goldberg. One of her fondest memories from her work includes finding out from a journalist, whose trip she helped arrange for a major magazine feature, was how he met his future wife! This transformative connection one has with other people when traveling is what fuels Goldberg to encourage others to travel. "To me, it's about the people you meet when you go there, and the people you travel with and get to know better, and the people who miss you when you're gone, who you come home to. And when you remember that experience, it always relates to how you felt with and about those people."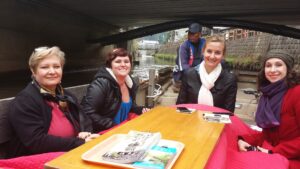 This prime takeaway of travel, however, was much more difficult for Goldberg to persuade others of during the start of her career. Twenty years ago, she commonly found that people were not as open-minded to the idea of traveling abroad to a very distant country, remaining stubborn to excuses such as how expensive a particular destination is or how uncomfortable they would be not knowing the language. To these rebuttals, Goldberg presents herself as a prime example of the life-changing impact of tourism, shown through her 43 trips to Japan. Today, she also highlights the significance of finding the commonalities rather than the differences between two divergent cultures, and these shared features, more often than not, embody themselves in the people!
When You Share, It Comes Back To You
Goldberg credits much of her success over the years to the fortune of having colleagues and mentors open to sharing their experiences and perspectives. In particular, she praises the kindness that was bestowed upon her by the late Betsy Wade, who had made history as the first woman to edit news at The New York Times. After meeting her for the first time during Goldberg's work as a production researcher and producer at the Travel Channel, Wade became very supportive, even sharing a potential travel editorial job opportunity with Goldberg. In fact, when Goldberg accepted the position of JNTO Public Relations Manager and sent out a press release to that effect, Wade was one of the first people to call and congratulate her. "Betsy was always so incredibly supportive and encouraging!" Goldberg has always stood by the quote that, "If you help somebody else out, they will help you in return," and collaborating with fellow public relations experts, who are open to sharing their insights, in order to see the tourism industry as a whole move forward, rather than fearing loss of personal business, has been a highlight in her work.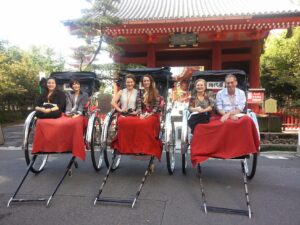 A New Look On Life Through Traveling
A core principle that Goldberg follows is to explore the countless opportunities available for oneself to grow. Even if you are not sure what exactly you are searching for, simply traveling somewhere new could be your best answer. "There are so many opportunities that can come your way, and you shouldn't get discouraged if you don't get a job. There's always another opportunity, another way to go that will lead you in another direction that might be something you hadn't thought about." One opportunity in particular that she highly encourages is applying to the Japanese Education and Teaching Program (JET Program). Open to candidates with any degree, Americans can apply to become an assistant language teacher in Japan or, if proficient in the Japanese language, a coordinator for international relations at a government office. Although Goldberg herself is not a JET, she highlights the immense success that the program achieves in bridging the gaps between cultures both while the JETs are in rural Japan working, but even more importantly once the JET alumni return. JET alumni have gone on to thrive in their future careers, ranging from diplomats to journalists, ceramic artists to sake experts! "It's going to be another aspect of your life that will make you a changed and unique human being!"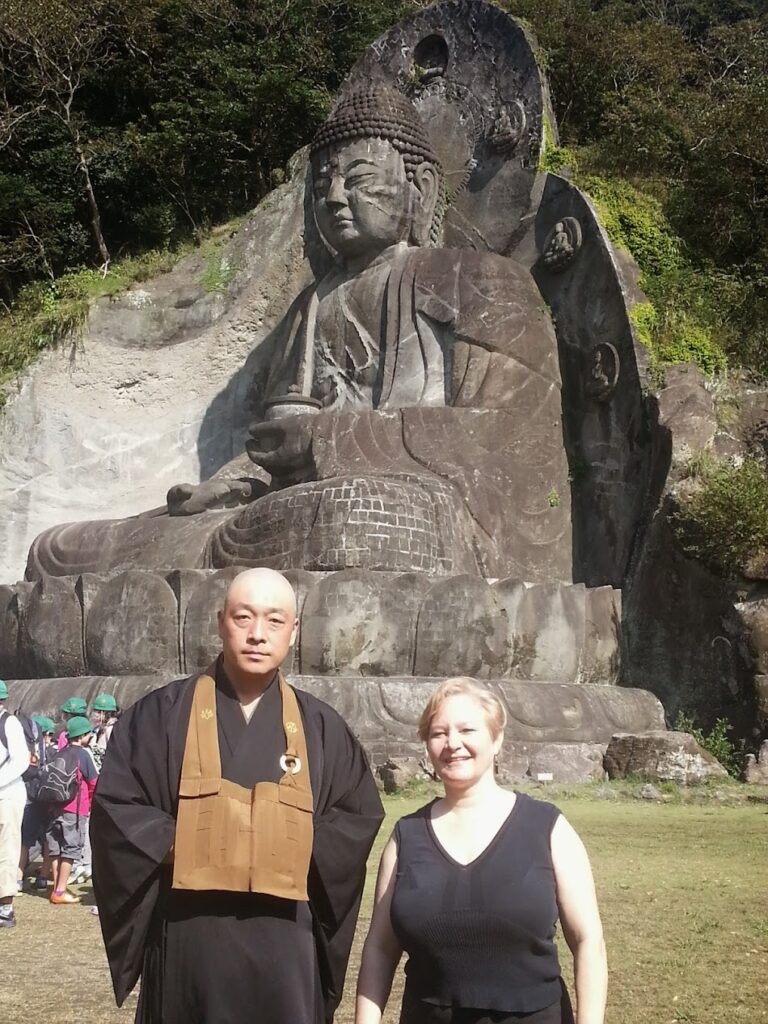 Marian Goldberg Marketing Communications (MGMC), LLC
https://goldbergontravel.com