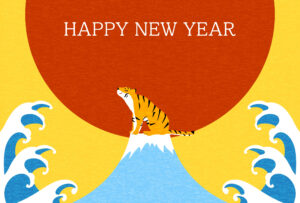 Happy New Year!
As we close out another pandemic year, we are sincerely grateful to all of our clients, partners, and friends for your continued support and patronage. We are thrilled to enter this new year with you, sharing hope and optimism. 
For us, connecting people is of the utmost importance. Every day we connect employers and job-seekers. Over the course of this turbulent year, we have continued to innovate and provide our customers with timely solutions. In the summer of 2021, we relocated our Los Angeles and New Jersey branch offices to meet the demand of our growing business. Earlier in the year, we launched the Activ8 online interview series "TSUGANU: To Connect," which features inspirational people who connect Japan and the United States through business, education, art, culture, and more. By highlighting such people, we hope to envision the future with you. 
We at Activ8 deeply respect those whose talents and efforts build international bridges and inspire the world. We see them daily in our customers and in the communities we serve. This year, we also drew inspiration from two athletes who gave many people hope: Shohei Otani, who claimed the American League's MVP title; and Hideki Matsuyama, the first-ever Japanese professional golfer to win a men's major championship at the 2021 Masters Tournament. These individuals have done much to raise Japan's profile in the United States, and their examples motivate us to take our business to new heights, too. 
As the new year dawns, the global economy is likely to remain uncertain. Inflation and supply chain disruptions continue to pose threats. During these times, it's our top priority to understand the essence of our customers' needs, see things from their point of view, and provide them with solutions. We value all our relationships and pledge to communicate with you through all the challenges the new year may bring. Together with our employees, we share our knowledge and wisdom with you, working flexibly while strengthening partnerships with our customers.
While anxiety about the pandemic, environmental problems and the many challenges facing humankind continues to mount, we encourage our staff to remain curious, inquisitive and ready to take on challenges. We at Activ8 are renewing our determination to provide our customers with all the support they need to achieve their dreams. We wish you and your loved ones a healthy and prosperous 2022!
Kengo Kaji
President and COO
Activ8 Recruitment & Solutions