TSUNAGU: To Connect. Whether it is connecting employers to job seekers or bringing different cultures together, we at Activ8 value the bridge-builders who make our world a better place every day. Our new series, TSUNAGU, will feature inspirational people who connect Japan and North America through business, education, art, culture, and more.
Yasushi Arakawa, Director of KAEN Beauty Design Studio and Nail de KAEN, Instructor at KAEN Nail Design Academy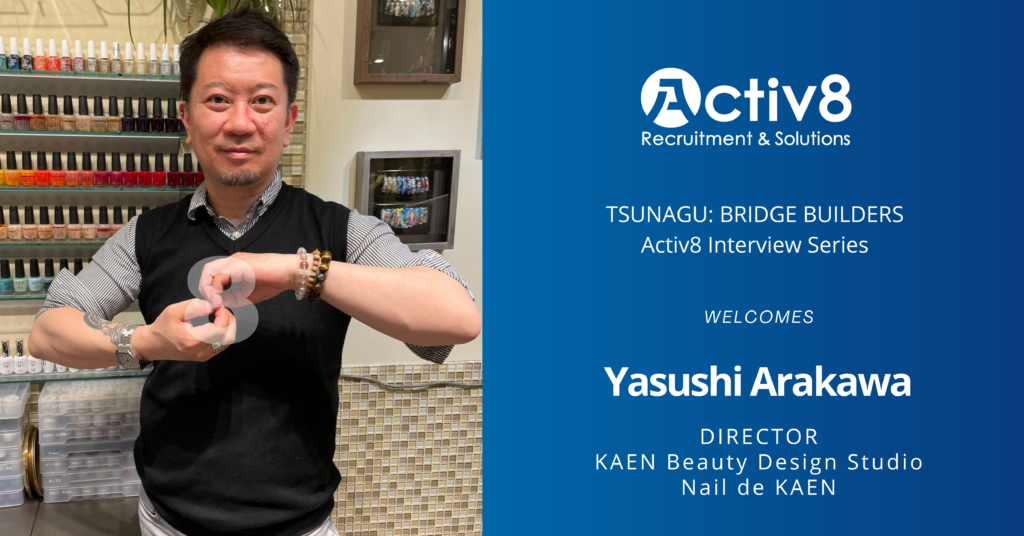 Today, renowned nail artist Yasushi Arakawa has celebrity clients including Queen Latifah and Lady Gaga, but at the beginning of his career, the Vancouver, Canada-based salon owner found it difficult to focus on just one thing. Having too many interests and a wide array of skills made it hard for Arakawa to decide on a path, and yet, he kept setting new goals with the aim of constant self-improvement, which eventually led to success in business. We interviewed Arakawa and learned more about an artist and businessman who does what he wants without hesitation and isn't afraid to jump into turbulent waters:
Going to Canada with a dream of working in the hotel industry:
Originally from Nagoya, Japan, Arakawa was always interested in hospitality management, and after graduating from a local college, he studied in Canada for a year. However, right before starting an internship at a well-known hotel, an industry-wide strike was declared and went on until it was time for Arakawa to go back to Japan. He spent his time at home getting ready to go into the restaurant business in Canada.
"I didn't get any experience and my visa expired, so I unfortunately had to return to Japan. Luckily, I made many acquaintances and friends in Canada, and I had a partner, so I got my chef's license and prepared to go back," Arakawa recounted.
Circumstances intervened again, however. He had just secured a Canadian employment visa and was planning his trip when the 9/11 terrorist attacks occurred, derailing his plan to get a job at a Japanese restaurant in a hotel.
Nevertheless, he was resolved to begin a "second life" in Canada, and started working at a Native American jewelry store through a friend's recommendation. He had always been good at making things, and liked jobs that required dexterity and creativity. At the store, he handled a lot of responsibilities, designing the window displays and making jewelry, among them.
His nail journey that started on a whim:
After working at the jewelry store for a year, Arakawa was offered a managerial position at another store in the same franchise, but he declined, knowing that he did not want to keep going in the jewelry industry. At the same time, he had to decide whether to renew his employment visa, and Arakawa opted instead to commit to his new home and apply for Canadian citizenship.
While his application was being processed, Arakawa knew that he wanted to hone one of his creative skills and looked into a number of programs before a friend suggested he try a nail school. He wasn't really interested in nail salons at the time, but his genius bloomed immediately, and by the time he finished his studies in three months, Arakawa was offered a position as an instructor. It was his friend's casual idea that led to his destined career, ironically.
Taking one step forward leads to a new path:
Arakawa became a Canadian citizen in 2003, and worked part time at his old nail school while helping out at a Japanese-run nail salon. The next year, he established his own nail salon called "Nail de KAEN" as well as a beauty and hair salon "KAEN Beauty Design Studio" in Vancouver. All the while, he kept returning to Japan to keep up with the latest innovations and newest techniques, combining what he learned in his homeland with cutting-edge styles in his new home.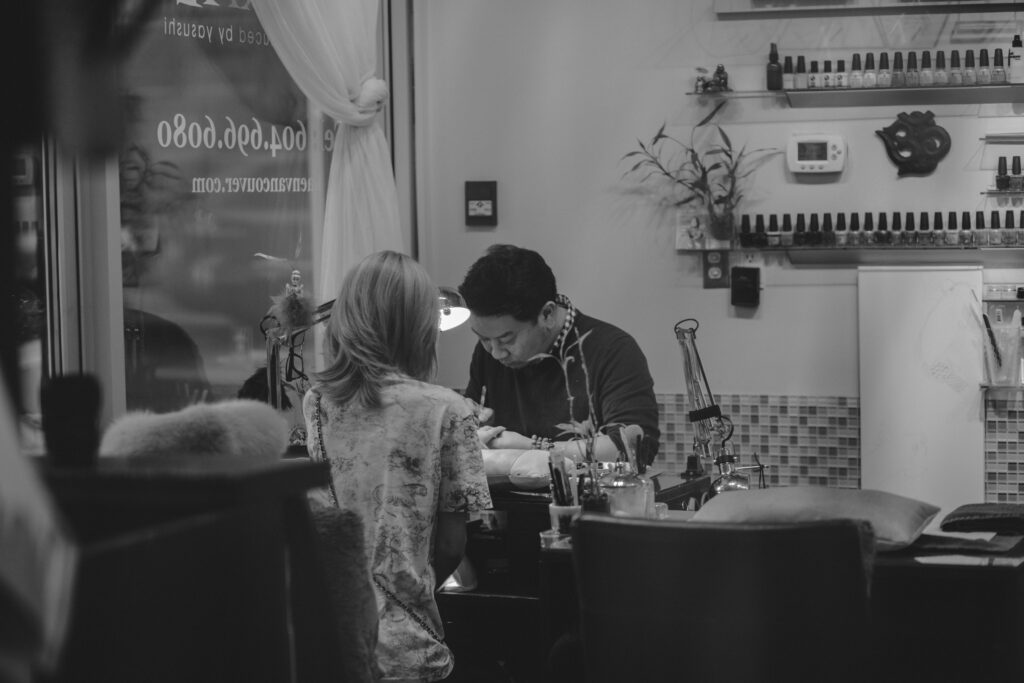 "Thinking about it now, I really just dove in without knowing anything about managing a business," Arakawa said. "Maybe I was able to do it because I was young. Our selling point has been that we have an all Japanese staff, and customers appreciate our intricate designs and quality service. However, I studied nails in Canada, and my style is completely different from those of nail salons in Japan. So for a few years after launching my business, I studied and took exams every time I returned to Japan, and improving my knowledge and skills took a lot of time and effort."
That effort bore fruit, as Arakawa won multiple awards in American nail contests, earning recognition throughout the nail industry.
Connecting to customers through nails and remembering your roots: 
Arakawa has many loyal customers who have been regularly coming to him since he established his business well over a decade ago, and he considers their trust sacrosanct. He tries to always remember where he came from and how far he has gone.
"I take pride in the passion I have for my work. Without forgetting why I started, I clean the store myself every day, paying attention to even the smallest of details so that my customers can have a relaxing experience. I also spend time on curating my social media presence so I can connect to more customers," Arakawa said.
My midlife crisis at 40 years of age:
Arakawa had always pursued a myriad of different interests, adding new skills easily, but when he turned 40, he felt that he was at a turning point.
"Ten years after starting my business, I ran into a midlife crisis. I couldn't decide whether to keep working as I had been before or if I shouldn't be as satisfied with my current situation. At the time, I was taking a child care course at a university and had a license in child care. It was really difficult to balance both my business and school."
"Why at 40 years of age? When I face off against myself, I always need to come up with new goals and put pressure on myself to succeed," he laughed. "I have a lot of ups and downs emotionally, and I always try to be busy to distract myself during my low points."
This time, instead of changing direction yet again, Arakawa decided to focus on his salon business.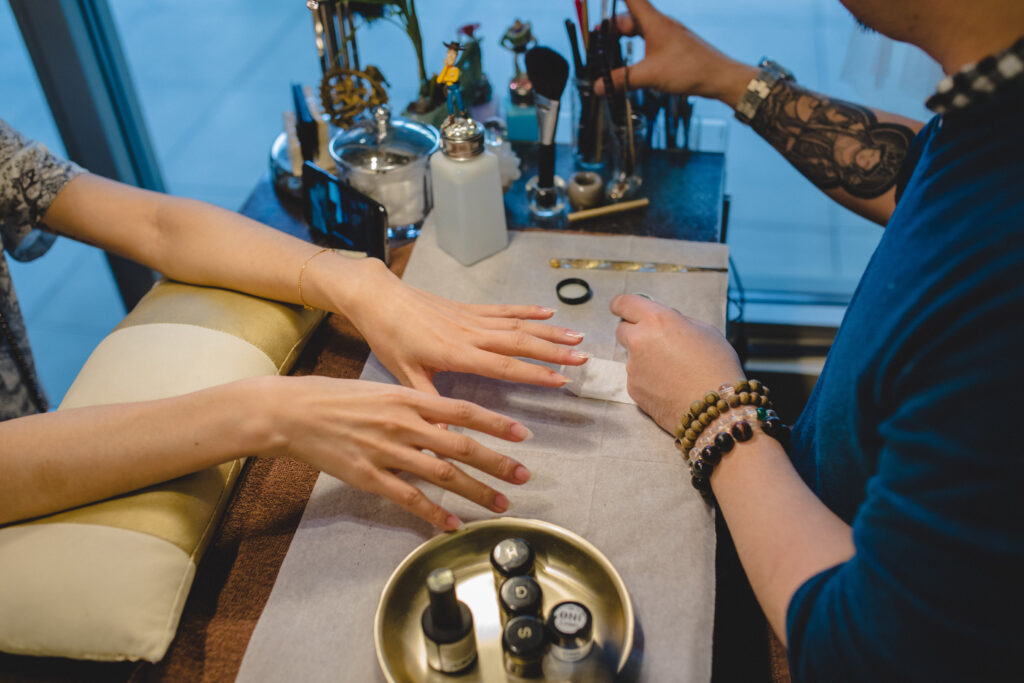 Overcoming the pandemic and working towards new goals:

Renown and success might have made smooth sailing for Arakawa's business. However, his biggest crisis has been dealing with the post pandemic economic recovery.
"During the peak of the pandemic, I was able to make it through because of aid from the government. Right now, we are about 75% back to where we were before the pandemic, which is a bit worrying. I am so grateful for the customers who have continued to come and support us," Arakawa said.
His current goal is the same metric he set for himself long ago, to continue improving the quality of all of his services. "That might not just be a goal for my business, but a goal for my personal life as well," Arakawa said. "I think my passion for my job will be helpful in achieving that goal."
Arakawa's talent led him to the nail business and his success in a foreign country was a result of those around him who encouraged him. For Arakawa, it is important to stay humble and keep his passion burning.
Advice to people pursuing a new career:
"Do what you want to do without hesitation. People often have trouble taking that first step forward, but if you don't, nothing will change. I have had a few similar indecisive moments over the years but I don't look back on them very often. Whether they be good things or bad things, I can't afford the time to look back and reflect on the past."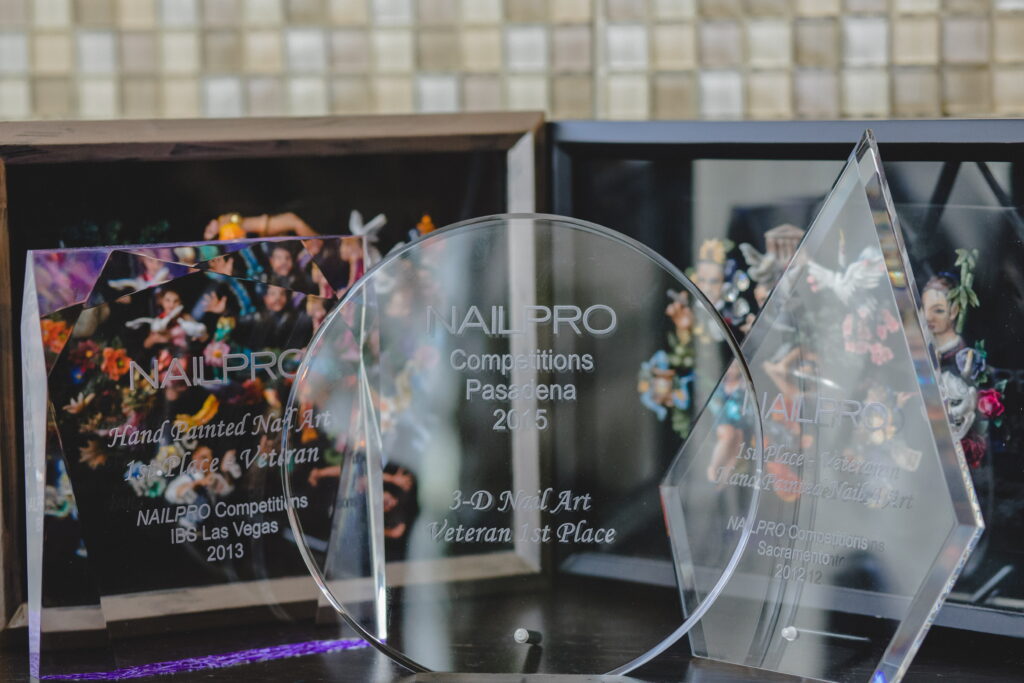 Mr. Yasushi Arakawa's profile:
Manager and director of KAEN Beauty Design Studio and Nail de KAEN, and an instructor at KAEN Nail Design Academy. Renowned in the nail industry, he has received numerous awards, and as a teacher, has taught many successful students and sent them out into the world.
Awards won by Yasushi Arakawa:
NAILPRO COMPETITION at Pasadena 2015 – 3-D Nail Art, 1st Place (Veteran)
NAILPRO COMPETITION at IBS Las Vegas 2014 – 3-D Nail Art, 1st Place (Veteran)
NAILPRO COMPETITION at IBS Las Vegas 2012 – 3-D Nail Art, 2nd Place (Veteran)
NAILPRO COMPETITION at Sacramento 2011 – Hand Painted Nail Art, 1st Place (Veteran)
NAILPRO COMPETITION at ISSE Chicago 2011 – Hand Painted Nail Art, 3rd Place (Veteran)
NAILPRO COMPETITION at Sacrament 2010 – Hand Painted Nail Art, 2nd Place (Veteran)
NAILPRO COMPETITION at IBS Las Vegas 2008 – Hand Painted Nail Art, 1st place (Novice)
NAILPRO COMPETITION at ISSE Long Beach 2008 – Hand Painted Nail Art, 3rd place (Novice)
NAILPRO COMPETITION at IBS Las Vegas 2007 – Hand Painted Nail Art, 5th place (Novice)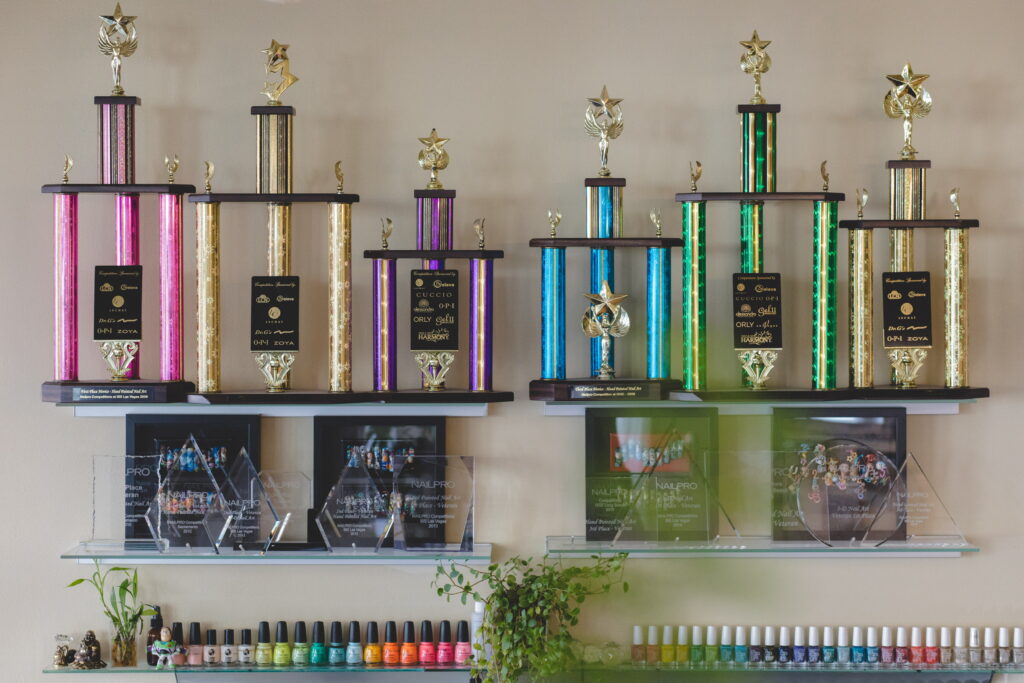 ◆KAEN Beauty Design Studio / Nail de KAEN