TSUNAGU: To Connect. Whether it is connecting employers to job seekers or bringing different cultures together, we at Activ8 value the bridge-builders who make our world a better place every day. Our new series, TSUNAGU, will feature inspirational people who connect the U.S. and Japan through business, education, art, culture and more.
Ross Koda, President of Koda Farms, Inc. and CEO & Founder of Omurasaki Beverage Company, LLC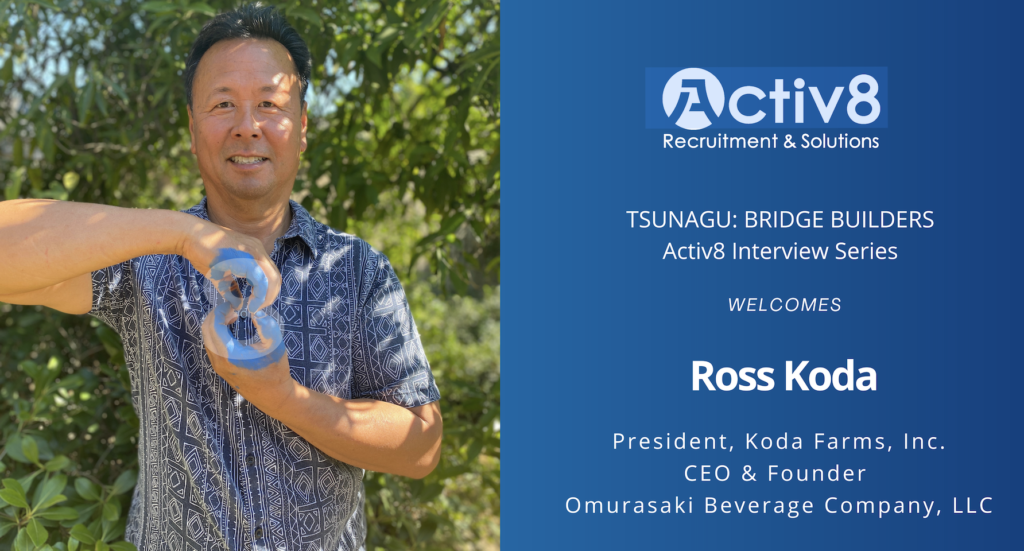 As the third-generation president of Koda Farms in South Dos Palos, California, Ross Koda considers strengthening the cultural relationships between Japan and the USA a cornerstone of his life's work. At Koda Farms, he blends over 90 years of Japanese-American rice farming tradition with modern, innovative, organic farming methods. To further add to his family's legacy in rice, Ross also serves as the CEO & Founder of Omurasaki Beverage Company. In this role, he imports back to the USA his own elegant line of organic junmai daiginjo known as Uka Sake, which is brewed in Fukushima, Japan from the organic rice grown at Koda Farms.
A Family Legacy Built on Rice
Since childhood, Ross Koda has played an active part in Koda Farms' work as he inherited the enthusiasm that stems from his family's deep connection to rice cultivation, whose roots in the USA were planted by his pioneering grandfather, Keisaburo Koda. Keisaburo Koda's father – Ross Koda's great grandfather – was an established rice miller and broker in Fukushima, Japan, and Keisaburo arrived in California in 1908 to pursue his own dream of farming rice, purchasing his own farm in the 1920s.
An innovator at heart, Keisaburo helped develop new rice-growing techniques, from sowing rice seeds with airplanes to increasing quality control throughout the cultivation process. As a result of his immense success, Keisaburo became known amongst Japanese Americans as the "Rice King." Today, his grandchildren, Ross and sister Robin Koda, carry this innovative dream forward by honoring and building upon the work of their ancestors.
Bridging the Space Between Japan and USA
Equally as important to Keisaburo as rice farming was improving the welfare of his fellow Japanese Americans, a passion Ross Koda has found especially meaningful.
"My grandfather always sought ways to promote relations between the USA and Japan," he said. "He helped Japanese trainees find farm employment in the USA and learn about American agriculture. He traveled often to Japan to talk about his experiences of building his 'American Dream,' and encouraged young people to visit, study, and live in the USA."
Modern times offer new ways to connect these two cultures, and for Ross, seeking novel uses for Koda Farms' rice has been a personal, life-long pursuit. During business trips related to exporting his organic rice to Japan, Ross found himself developing an interest and taste for sake. This led him to the idea of brewing sake from Koda Farms' organic rice, culminating in the founding and creation of his own brand, Uka Sake.
"I have always wanted to honor my grandfather's legacy by finding a way to continue his tradition of building bridges with Japan. Having USA-grown organic rice handcrafted into sake at the renowned Ninki Inc brewery near my grandfather's home area in Fukushima, and marketing the sake in the USA, seemed like a great way to do this."

Map showing the connection between Koda Farms in California and Ninki Shuzo Brewery in Fukushima.
A Story of Transformation
Uka Sake has been a rewarding project on business as well as spiritual levels, Ross said. Growing rice has been an integral part of his entire life, and by developing an entirely new sake from his family's organic rice, Ross found a way to further honor his grandfather's legacy through his own achievements. 
"The only goal I have for Uka Sake is to become something that would make my ancestors happy, and allow me to feel I have honored the struggles and sacrifices they endured for me," Ross said
"Uka," the Japanese word for "emergence," is mirrored in the sake's sumi-e style butterfly logo. Just like a butterfly's transformation from an earthbound caterpillar into a beautiful, flying creature, Koda Farms' organic heirloom rice is transformed through milling and brewing to emerge as an elegant and refined sake. In addition, the lower wings of Uka's butterfly depict stylized maps of both California and Fukushima, Japan, representing Ross's desire to increase ties and foster relationships between Japan and the USA.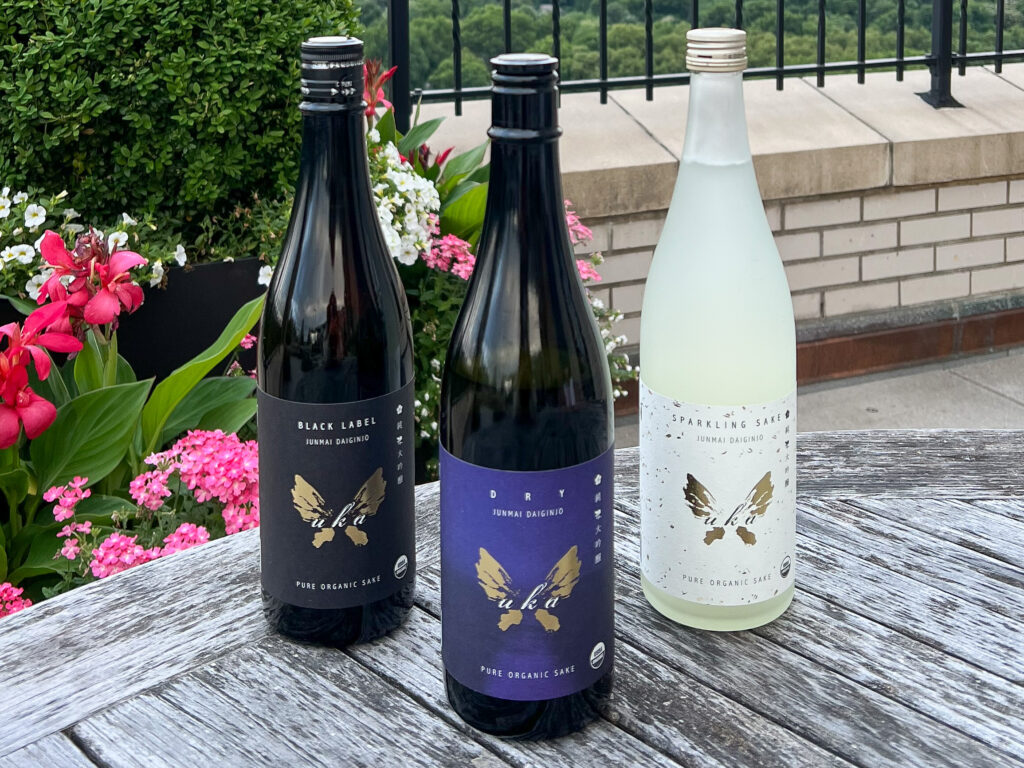 Uka Sake's varieties: Uka Black Label, Uka Dry, and Uka Sparkling Sake.
Value Your Relationships with Others
Despite his exemplary leadership skills as an individual overseeing Koda Farms' daily operations and developing a sophisticated line of sake, Ross feels immense gratitude for the relationships he has formed over the years, and recognizes precisely how they have helped him turn his dreams into a reality.
He may have originated the idea of crafting an organic sake, but Ross said that he was lucky to have built connections with key people who were essential to breathing life into Uka Sake.
"I knew I needed help to find the right brewery in Fukushima," Ross explained, "and a long-time family friend who is the Koda family's historian, Mr. Hideo 'Hank' Ide, screened and recommended the brewery. The Sumi-e style butterfly brand with the lower wings depicting California and Fukushima is the wondrous creation of Mr. Masanori Baba, who co-directed the Koda Farms documentary, Seed. I was fortunate to meet Mr. Michael John Simkin through an introduction from my cousin. With his decades of experience and knowledge in wine, spirits, and sake, we have put ourselves in the best position to establish a national customer base."
Through this beneficial, collaborative network in both Japan and the USA, Ross is confident these have given Uka Sake the best opportunity for success. For Ross, it has been a powerful lesson in valuing community, a principle he encourages all to implement in their own lives. 

(Left): Ross Koda with his family; (Right): Ross Koda with Hideo "Hank" Ide and Yujin Yusa, Founder and CEO of Ninki Inc during Ross' first visit to Ninki Brewery.
Advice for Those Who Are Seeking a New Career 
"Be kind and generous to others so that you surround yourself with the best people who are happy to help you, provide counsel, and give advice," Ross Koda advised those who are trying a new career path.
Nevertheless, he also values the sentiment of investing in yourself, and believing in your own potential to achieve what you set out to accomplish:
"Believe in yourself and take ownership of what you do, whether it be success or failure, as you are the only one who will continue to fight, endure overwhelming stress, and put everything on the line to turn your ideas into reality."
Koda Farms: Website / Instagram