TSUNAGU: To Connect. Whether it is connecting employers to job seekers or bringing different cultures together, we at Activ8 value the bridge-builders who make our world a better place every day. Our new series, TSUNAGU, will feature inspirational people who connect the U.S. and Japan through business, education, art, culture and more.
Jun Takanarita, Bar and restaurant owner (Murasaki, Summertime Jazz Cafe/Lounge, Nina Karaoke House), Drummer and Taiko Performer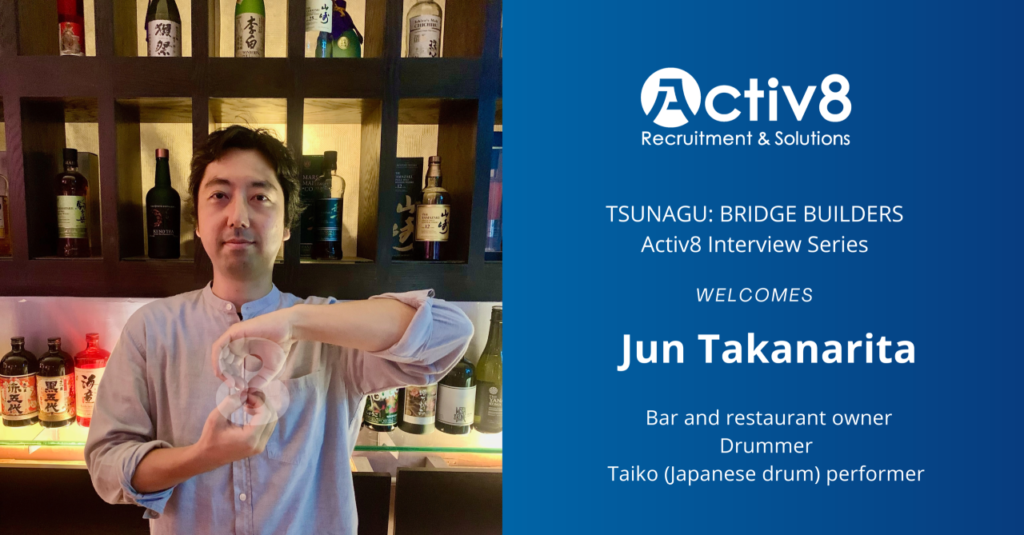 Jun Takanarita owns three bars in the Chicago area and has been in the U.S. for 20 years. He performs his three jobs in perfect balance as a bar owner, a taiko performer, and a band member, constantly calmly assessing where he should be and living a flexible life. The driving force behind his success was his "reluctance to give up".
From Rock Band to Jazz Drums
Jun Takanarita ("Jun") has been an accomplished classical piano player since he was a child and was a drummer in a rock band during his high school years. He had already decided on a career path after graduation when he was a sophomore in high school. "I didn't want to go to a Japanese university. But I didn't think I could make a living as a musician." So, he narrowed his focus to studying music at an American university and began his preparations. Jun, 19 years old and "really bad at English", made his first big decision and crossed the ocean with great enthusiasm. After trial enrolment at several schools, he enrolled in the jazz drum major program at Roosevelt University Chicago College of the Arts and Performing Arts, where he liked the city and the atmosphere on campus. He chose the jazz department not because he particularly liked jazz but because he thought it would help him learn as a drummer. At the university, he studied with Paul Wertico, who was active in a band called the Pat Metheny Group.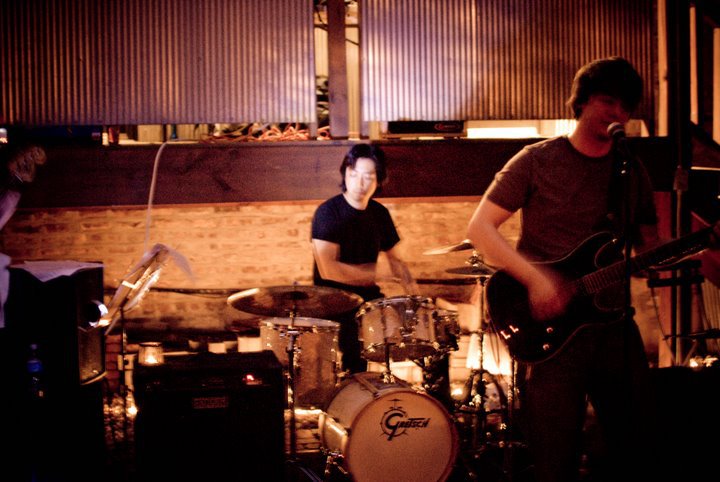 Similarities and Differences – The Road to Taiko Connected by Drums
While in college, Jun was involved in live performances with an experimental music band he formed with students from other universities and worked part-time as a bartender. Just around that time, he met Mr. Tatsu Aoki, a Japanese bassist in Chicago, through a mutual acquaintance. Tatsu, the head of the largest Taiko dojo in the Midwest, "Tsukasa Taiko", and also a leading musician, educator, experimental filmmaker, and inheritor of traditional performing arts, discovered Jun's talent as a drummer. "Tatsu-san allowed me, still; an inexperienced student, to join the 'MIYUMI project' led by Tatsu-san as a drummer on the big stage of the Chicago Jazz Festival." Tatsu invited Jun to join "Tsukasa Taiko" in 2010, and he began learning taiko from scratch.

"Tatsu-san told me, 'Forget the drums' People with drumming experience tend to try to beat and rhythm, but taiko is a completely different percussion instrument from drums. I play it as if it were a different instrument" says Jun. Another characteristic of taiko is that there is no musical score, and everything is memorized by mouth. "I think taiko is like the 'kata 'of kendo. The way you hold the bachi (stick), place your center of gravity, posture, mannerisms, mentality, and learn by the flow of your body are all very similar. In a way, this may have been a good thing." After only a few months of playing taiko, Jun was allowed to perform immediately with "Tsukasa Taiko" and performed at numerous festivals, including Lollapalooza, and the annual year-end "Taiko Legacy Concert" at the Museum of Contemporary Art Hall in Chicago. In 2017, he also participated as a drummer on the soundtrack album for the documentary "And Then They Came for Us", about the internment of Japanese Americans during World War II. He steadily built a career as a musician. Meeting with Tatsu led to taiko, leading to a new career in the United States.
"The one and only "Japanese bar" in Chicago.
Another career of Jun's is as a bar manager. Having worked as a bartender for over ten years since his student days at "Murasaki", a sake lounge well known in Chicago, he took over the restaurant in 2014 when the previous owner retired. "First, as a measure to rebuild the business, we tried to
transform the restaurant into a place where people who understand value can enjoy good drinks. On weekends, when the number of customers was declining, we held 'DJ nights' featuring popular DJs, which were a hit with the younger crowd. After that, when we started to promote the 'City Pop (popular Japanese pop music of the 70s and 80s) line', we became known as a 'Japanese bar that suits City Pop', and customers from other states started to come to the bar for this reason." Jun's strategy worked, and "Murasaki" established itself as the one and only "Japanese bar" in Chicago and  has became popular as the only Japanese-owned bar in the city, serving more than 20 varieties of sake.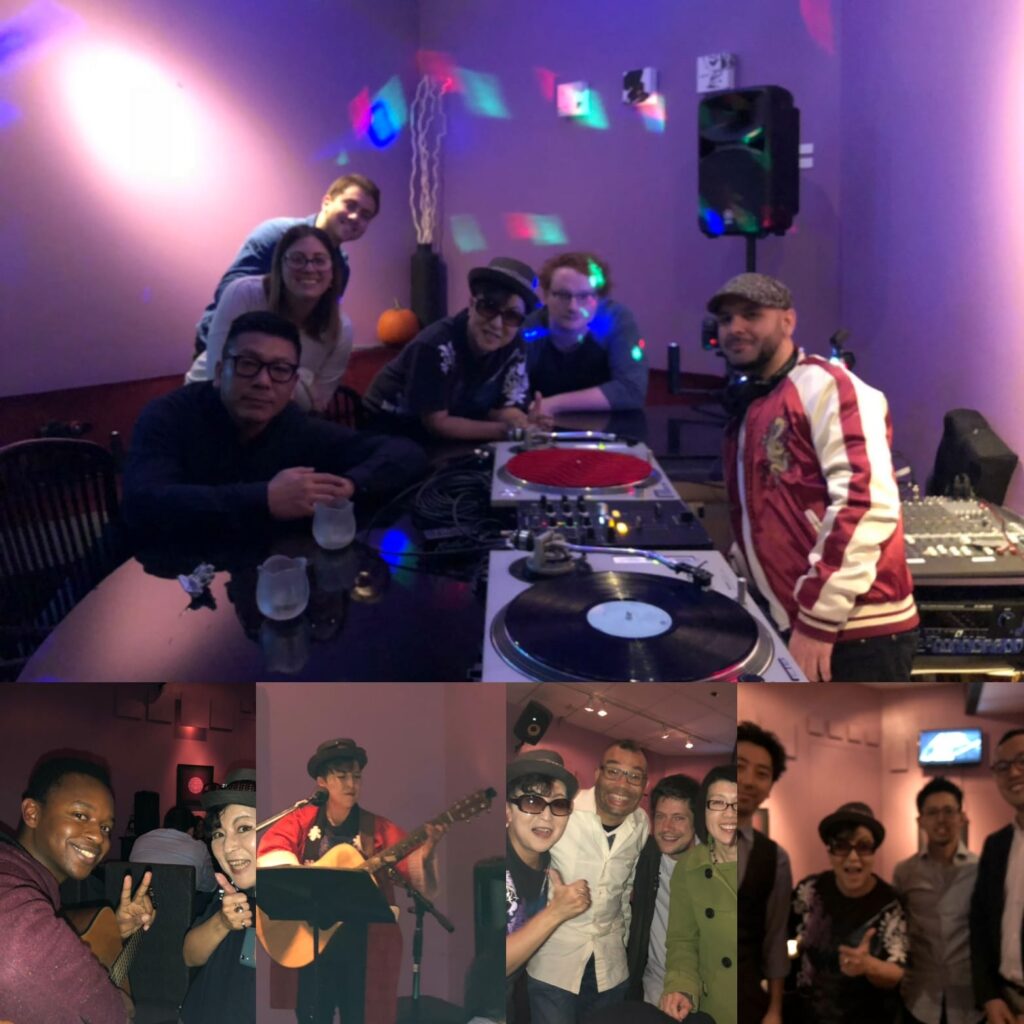 Music and sake. He brings together all of Japan's culture and connects them.
The fact that Jun came to the U.S. with music and later became a successful bar owner proves that you never know what will happen in life. "I instead found a lot of fun in it and fell in love with it after I started running the food and beverage business. I've visited sake breweries in Japan to talk about the potential of sake in the U.S., and organized events in Chicago to promote City Pop using sake. I also combined DJ and tasting events and even hosted a live event connecting sake breweries in Japan online during the pandemic. I enjoy combining and connecting all aspects of Japanese cultures in my work."
The secret to success is never to give up and to love it.
Jun had no experience running a business before, so what was the secret to surviving in the competitive restaurant industry? "The secret is never to give up. You have to do whatever you can do. The restaurant business deals with people, so there is no how it should be. If you draw a line (with numbers) based on business knowledge alone, that's the end. The restaurant business is not about that; it may be more about mentality (lol)." Jun learned this "mentality" by observing the people around him, including the previous owner and other business owners, and the reactions of customers and employees. This "reluctance to give up" and "keen eye for the times" led to"Murasaki" becoming a one-of-a-kind sake lounge and to the acquisition of the rights to operate the jazz lounge "Summertime Jazz Cafe" in 2019 and "Karaoke House Nina" in 2022.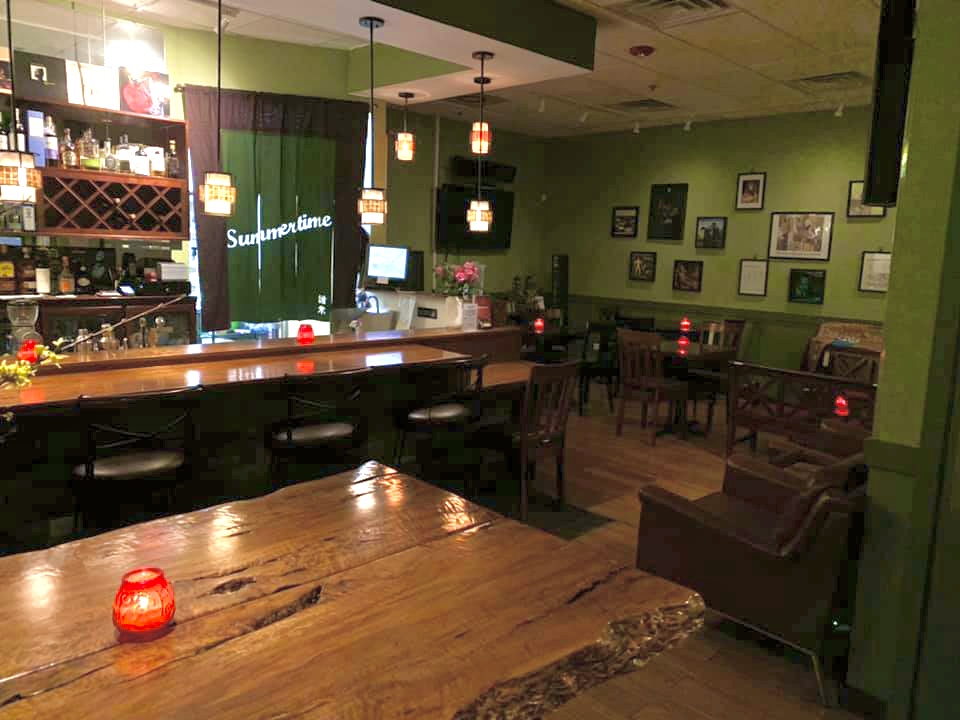 What are you taking care of to connect Japan and the U.S.?
"That means not telling the customer the wrong thing. I try to share correct knowledge and information about sake and the news with my employees so that we can properly explain to customers who come to the restaurant because they love Japan. And always be updated with the latest information. We also pay attention to proper Japanese manners, even when pouring sake. We want to be a Japanese bar where people can understand the real Japan, where customers who come alone can comfortably enjoy conversation, rather than a bar where the staff just quietly serves customers."
Setbacks and revivals experienced so far.
Jun seems to be going well, but he experienced a major "setback" in his junior year of college. He was no longer interested in school and was deeply concerned about his vision for the future, wondering if he would continue with his music career. He temporarily returned to Japan for six months to cool off and spent time in the mountains at his uncle's kiln, who is a potter. Just then, he met Tatsu Aoki, whom he looked up to as his mentor. "I was still inexperienced, but he gave me a lot of experience, which made me want to continue with music."
Goals for the future
Jun's immediate goal is to get "Karaoke House Nina" (in a suburban Chicago location), which he acquired in 2022, back on track. "When we acquired it, we were going through a difficult time because of the pandemic, but our first goal is to stabilize profitability as a restaurant"  he said. He also continues to challenge "Maxwell Thomas ", a four-piece rock band that he has been a drummer for several years, with a major goal of making it a proper-selling band. "I never thought I would be in a rock band again at my age (lol), but now that I have a good band together, I want to make it a band that sells strategically."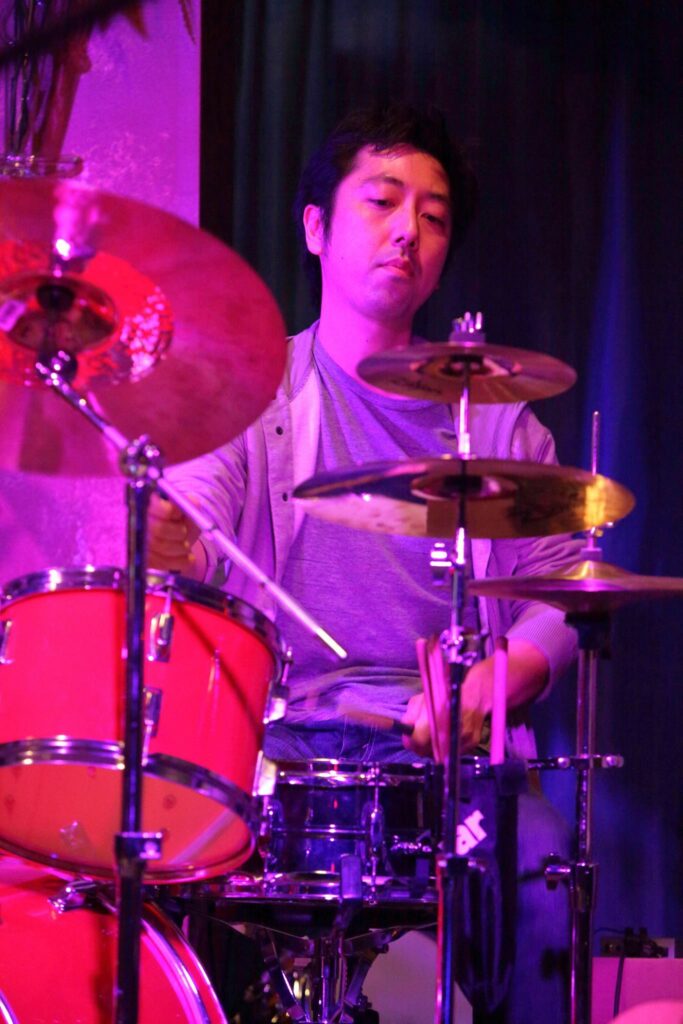 Advice for those seeking a new career
"There is a way to everything. If you take on challenges without giving up, you can always do something. If you think it is impossible here, that is the end. The world is a big place, and there is always something you can do. When you find it, don't hesitate to take on the challenge."
Murasaki Sake Lounge (Chicago, IL)
Summertime Japanese Restaurant/Bar (Mt. Prospect, IL)
Karaoke Lounge Nina (1136 S Elmhurst Rd, Mount Prospect IL 60056)