TSUNAGU: To Connect. Whether it is connecting employers to job seekers or bringing different cultures together, we at Activ8 value the bridge-builders who make our world a better place every day. Our new series, TSUNAGU, will feature inspirational people who connect the U.S. and Japan through business, education, art, culture and more.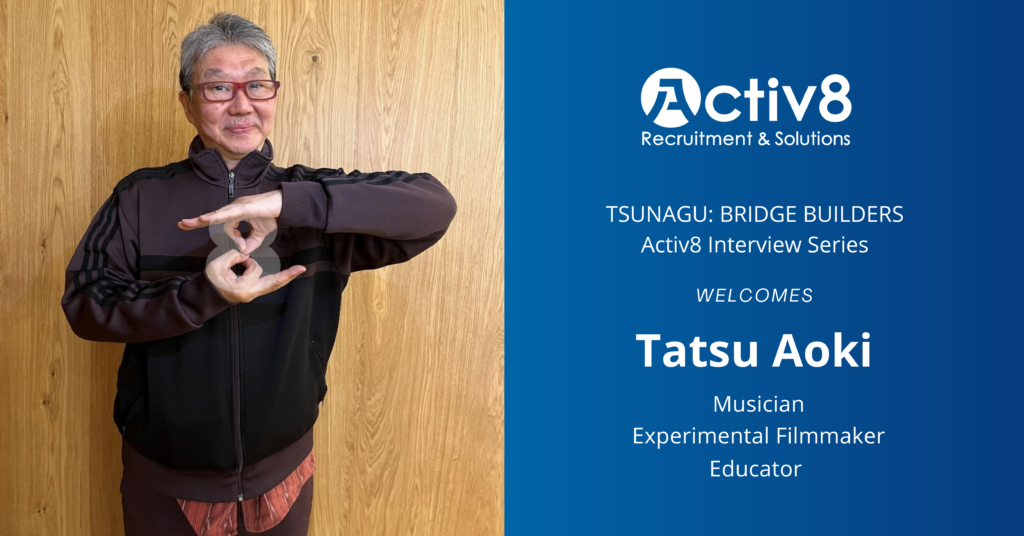 Mr. Tatsu Aoki: Musician, film director, educator
Tatsu Aoki is a renowned Chicago-based artist who seamlessly combines the avant-garde with traditional culture. He grew up as the son of a very successful geisha, an artisan entertainer who owned an okiya (geisha house) in Tokyo, surrounded by other geisha and their customers. In his teens, his heart was badly broken from love lost, and in sorrow, he headed to Chicago to study jazz and movies. After some years, he rediscovered his Asian roots and brought Japanese traditional music into the jazz world, receiving high praise from critics. In February of this year, at the age of 65, he opened a cultural center with a taiko dojo, fulfilling what had been a long-term dream.
Aoki's life has been steeped in the arts. His father is Wahei Hoshino, a producer of Shintoho film studio, and from the age of three, he was taught to play the shamisen and taiko drums by his grandmother, the owner of Toyoakimoto, an okiya that later turned into a traditional Japanese restaurant. When he was in high school, Aoki joined the underground theater troupe Gintenkai at his father's recommendation. At that time, Gintengkai was frequented by big names in Japan's world of underground writers, filmmakers and other artists, including novelist Abe Kobo, director Hiroshi Teshigahara and Shuji Terayama, a poet and director. Aoki studied Japanese taiko drums and underground art under Yasujirō Onhayashi, the head of the Gintengkai troupe. Aoki recalled, "I was influenced by their rough and tumble unpredictability."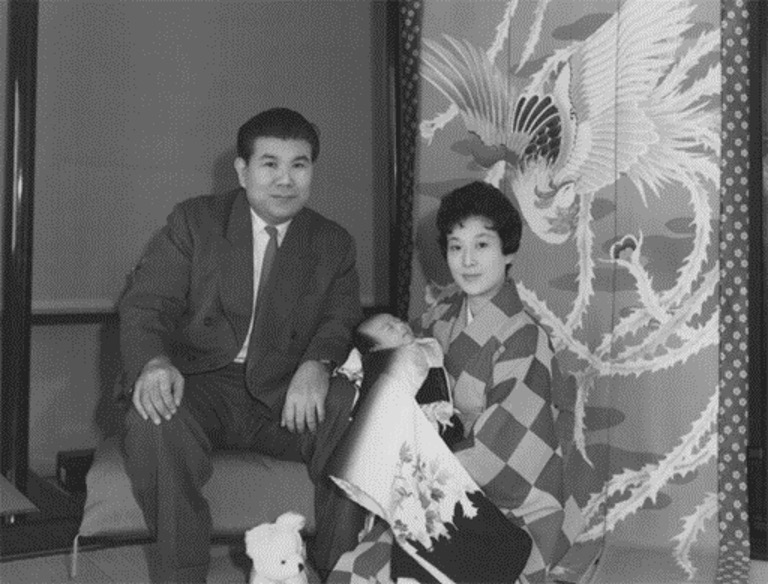 Photo provided by Toyoakimoto
Heartbreak with a geisha led him to move to Chicago.
It was around this time that he started playing in a rock band, getting into jazz bass, and making independent films, all because he wanted to get girls' attention. But Aoki developed a crush on a geisha who was 10 years older than him. Her name was Kaito and she was a shamisen teacher. He practiced shamisen intensely to impress her, and fantasized about marrying her when he turned 18. Then, on a fateful day, Kaito announced her marriage to a wealthy Taiwanese man and left for Taiwan. Coincidentally on the same day, Aoki was involved in a conflict between students and was seriously injured, breaking his jaw, and was forced to drop out of high school.
Feeling that he would not have a future if he stayed in Japan, Aoki decided to go abroad after consulting with Gintengkai's head, Onhayashi, who he felt was like his big brother. He chose Chicago because it was the mecca of avant-garde jazz, and the heavyweights of avant-garde film taught at the School of the Art Institute of Chicago.
I will become an American Jazz Artist!
In order to study at an American university at that time, you first needed an American high school diploma. So Aoki went to a special program at Ohio University to get a high school diploma along with English classes, and then matriculated as a student at the Museum of Art College in Chicago.
It was the music played in Chicago's clubs that gave Aoki a real education, however. When he first heard avant-garde jazz performed by black jazz musicians, Aoki was shocked and amazed. He'd heard many recordings, of course, but seeing them play live was simply incredible, and he understood the jazz played in Japan was merely following the manual. He vowed: "I'm going to be an American modern jazz artist!" And years later, he did indeed play and record with many legendary Chicago musicians who were his heroes in those early years.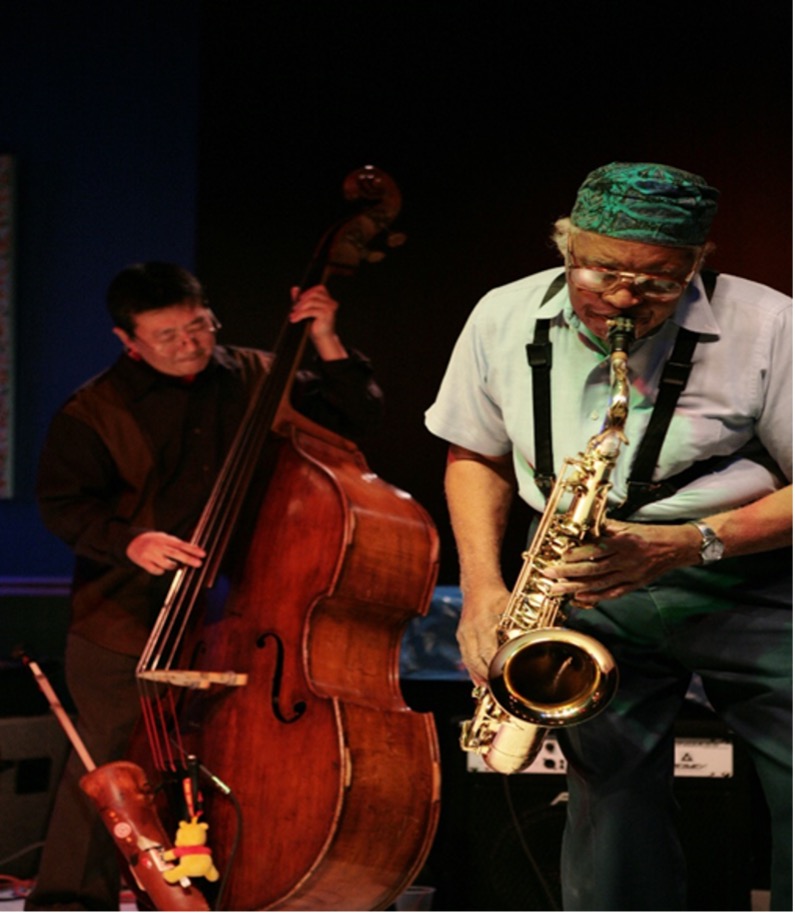 With the late Chicago avant-garde jazz legend Fred Anderson
Awakening as an Asian, Create the sound honest to Yourself
After 10 years of sealing Japanese musical instruments and honing his skill as an American jazz musician, Aoki started to feel more and more that he wanted to make a sound that was honest with himself. Looking around, he noticed that Asian-American jazz performed by Asian-Americans was already taking center stage in San Francisco. Looking back, when I was a teenager, Akiko Yano and the Sadistic Mika Band, who he admired, incorporated Japanese music into their works. He began to see himself propagating Taiko-do, which was taught by his mentor Yasu-san, in the United States.
As an Asian, and as a "new Issei" who came to Japan after the war, Aoki wanted to carve out a new path in America. In 1995, he established the Asian American Jazz Festival, the first music festival in Chicago that focused on Asian musicians, and also started to train taiko drummers at Tsukasa Taiko Group to cultivate the young talents.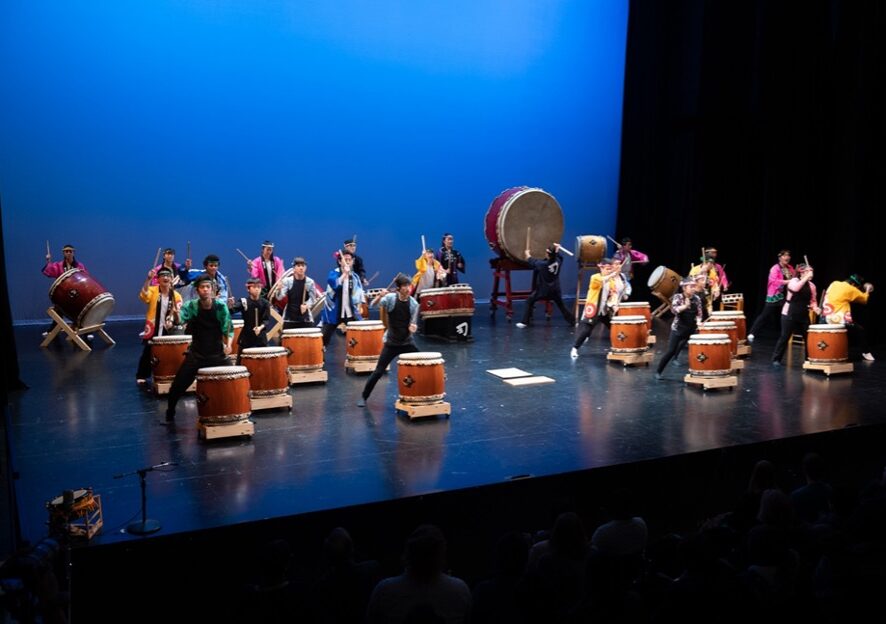 Taiko Legacy Concert, Museum of Contemporary Art Chicago (MCA) (2019)
Days of frustration
There were times when he was miserable. Art costs money, and the salary of a film faculty member at the Art Institute of Chicago is not enough to support his family as well as his artistic endeavors. For a time, he earned money from a side business as a consultant, but in the 1980s, when the bubble economy burst in Japan, his business partners forced him into debt and disappeared. Day after day, he cried because he could only feed his children peanut butter and jelly sandwiches.
Just when he was thinking that he had no choice but to sell his house and pay off the debts, help came. The money he had lent to people was repaid. Aoki said, "When you think you're stuck, something will always happen to save you. The power to believe in one's own path brings out the luck."
Talking to yourself is the key to success
Achieving your dreams requires the attitude of "believing that you can do it," Aoki believes strongly. "This is beyond positive thinking. When you picture the future to succeed, everyday words and deeds change to those for achieving goals. It's like faith, in that believers are saved."
"This year, we spent about 100 million yen to create a cultural center that nurtures the next generation of artists. When the planning was started, people said 'That's impossible' and 'How the hell do you get funding?' But If you ignore this distraction and strongly believe in the future realization of your dream, your radar will sharpen, your ability to catch useful information will increase, people with the same ambitions will join in, and luck will come."


Aoki opened his own taiko dojo in February 2023.
"I especially recommend to everyone to speak to yourself often. In the shower, imagine various scenes and keep muttering, thinking, 'How would I respond if someone said this to me?' This method is unpopular with my family because I talk to myself everywhere, but the effect is tremendous."