TSUNAGU: To Connect: Whether it is connecting employers to job seekers or bringing different cultures together, we at Activ8 value the bridge-builders who make our world a better place every day. Our new series, TSUNAGU, will feature inspirational people who connect the U.S. and Japan through business, education, art, culture and more.
Fumio Maruyama Moo: Founder of Team Kawachiondo, Former President of LA Kansai Club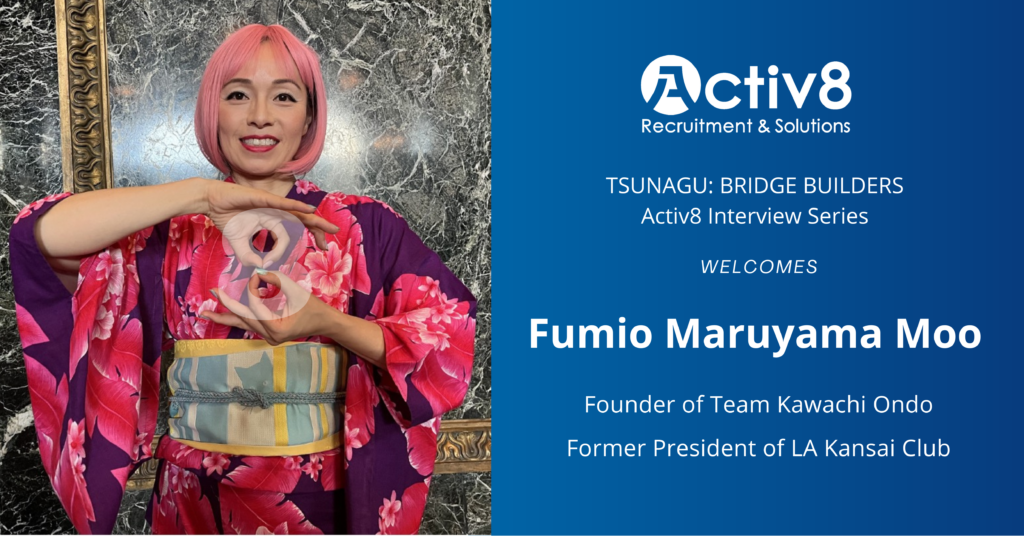 For this month's profile, we would like to introduce Fumio Maruyama Moo, 52, the founder of the LA-based Team Kawachiondo. She is fascinated by Bon Odori, a style of Japanese summer folk dancing, which she started learning as part of her community activities. Kawachi Ondo is a particular kind of Bon Odori first developed in Osaka and now performed by groups like Fumio's around the world. Fumio is leading this movement and expanding her "circle of dance" across the United States by making use of her trilingual language skills as well as her extensive experience as a PR professional. It is said that participating in the Bon Odori Japanese summer dance tradition has the mysterious power to connect and cheer up people, regardless of language or race. This year, Team Kawachiondo performed in Chicago in August and plans to perform in Arizona in October. Fumio's goal is for her group to perform at the Osaka Kansai World Expo in 2025. We asked her about how to create and grow an organization: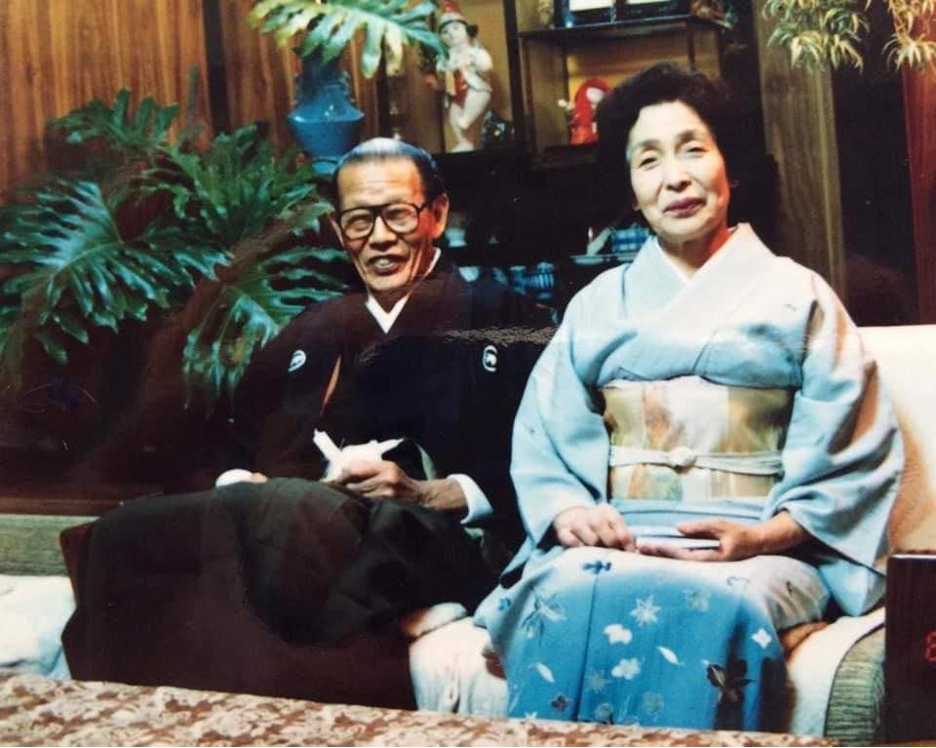 Photo: She grew up with loving grandparents, who had a deep knowledge of traditional Japanese Folklore Culture.
"Bon Odori Girl", Unusual childhood Learning Shigin
Fumio was born in the city of Osaka, where both her parents were teachers, her mother for English and her father for music. They wanted her to grow up free and happy and never urged her to study, though as a child, she was an imaginative and quiet bookworm. Although she was not good at sports, she loved dancing and music. That's because she was growing up surrounded by traditional Japanese folklore culture. Her grandfather was a singer of Minyo, Japanese folk songs, and her grandmother was good at reciting Shigin, traditional Japanese poetry. Fumio learned Shigin from her grandmother from the age of 6 to 15. An interest in traditional poetry was already unusual for a child, but under the influence of her grandparents, she also developed a deep understanding about Minyo and the sounds unique to Japan. "It's in my blood from my ancestors," she said with a smile.
Fumio spent her childhood in Yao, Osaka Prefecture, the mecca of Kawachi Ondo dancing, and attended Yao High School in Yao City. Yao holds the Guinness World Record for the largest number of people dancing Bon Odori in the world. In the summer, turrets are set up all over the city and numerous Kawachi Ondo dance events take place. At the 40th Yao Kawachi Ondo Festival held in 2017, 2,872 people participated according to the official rules such that "all participants dance the same dance for 5 minutes in traditional costumes," setting a Guinness World Record. In July of this year, the Bon Odori competition in Nakano, Tokyo, attempted to break the Guinness World Record, but failed with six people short of Yao's record.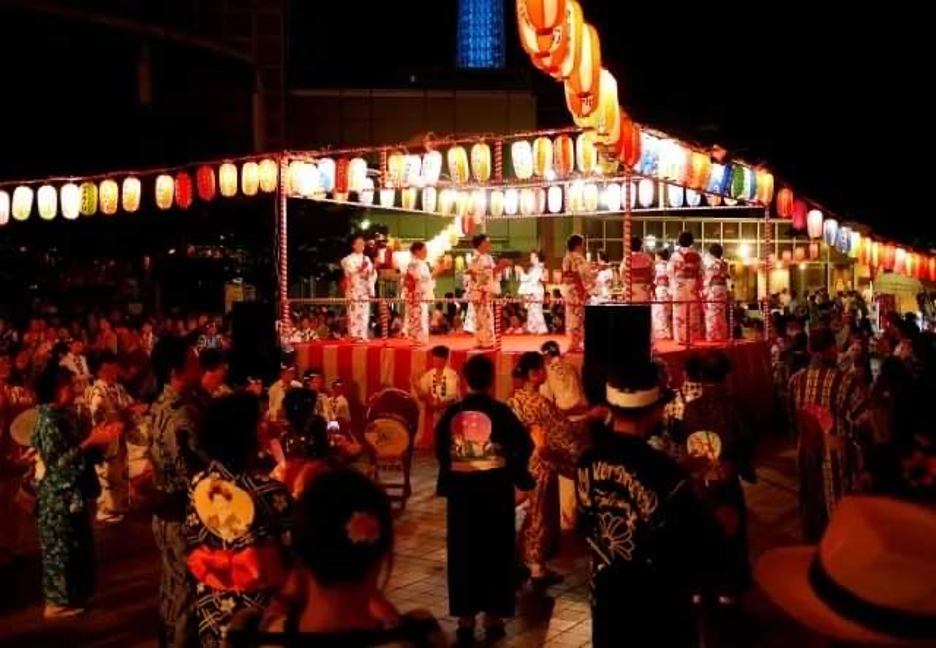 Photo: The home of Kawachi Ondo, Yao Bon Odori
Kawachi Ondo is just one of the types of Bon Odori dance, all of which have a religious purpose of memorializing ancestors and honoring spirits who return during the traditional summer Buddhist holiday known as Obon. Kuya Shonin created Bon Odori during the Heian period (794 to 1185 CE) as a way to spread Buddhism among the people, and the dance was popularized by Ippen Shonin during the Kamakura period (1185 to 1333 CE).
There are various theories about the roots of Kawachi Ondo, which is said to be the medieval version of rap and soul music of the Osaka people, but according to one theory, the birthplace is the Jokoji Temple in Yao, which was built in the Nara period (CE 710 to 794). In the Muromachi period (1336 to 1392 CE), a major construction project was carried out to rebuild the temple, and the chants of the workers who carried the lumber merged with other sounds to create the music behind the original Kawachi Ondo. The Jizo Bon Odori summer festival is still held at Jokoji Temple every year, and it has been selected as one of the 100 Best Soundscapes in Japan by the Environment Agency.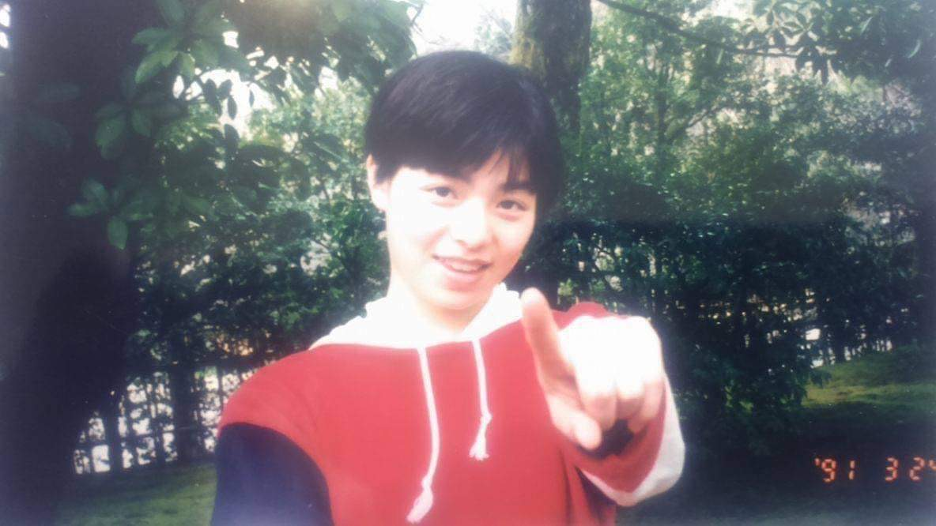 Photo: Fumio in her college days
Going Abroad
After growing up immersed in Japanese folklore and culture, Fumio began to turn her eyes overseas during high school. Her cousin opened a restaurant in London serving Okonomiyaki, a traditional Osaka dish, which became a tremendous success, even attracting the rock star Elton John as a customer. Fumio was amazed that her cousin was able to run the business while raising five children, and decided to study abroad in England. There she made friends with Spanish-speaking classmates. Attracted by the language, when she went back to Japan, she entered Kansai Gaidai, a university known for its foreign language education. After intensive study, she learned Spanish well enough to dream in that language too in addition to her already strong English. She had become trilingual.
After graduating from the university, Fumio got a job at an advertising agency in Osaka. But at the age of 28, she "burned out" and quit her job. This time, she headed to study abroad in Spain. Her roommate was German. She made new friends and expanded her network.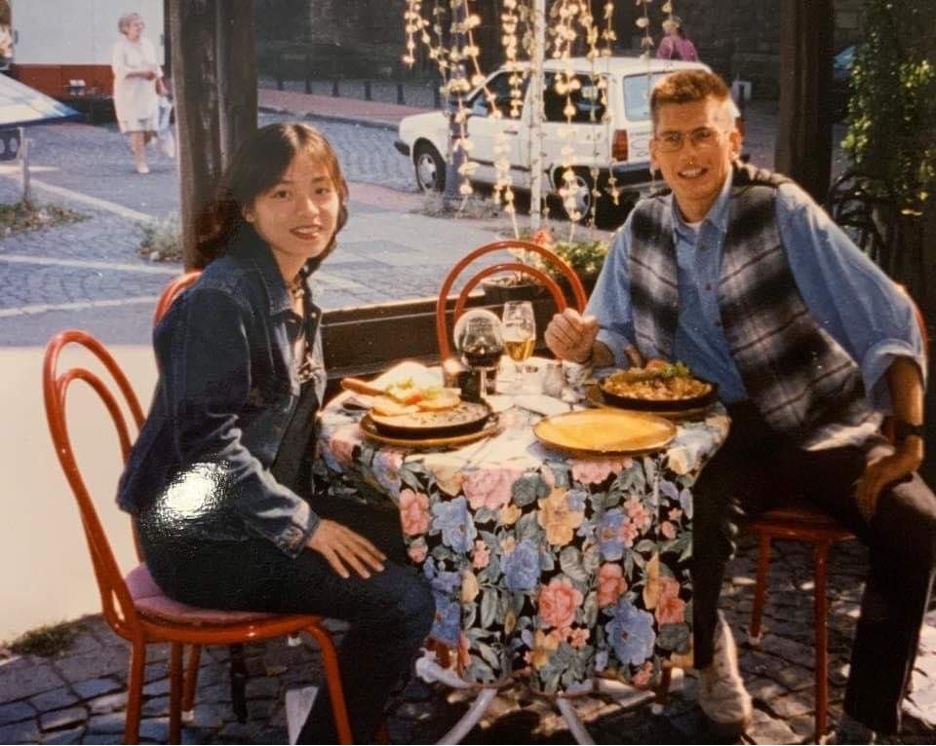 Photo: Studying abroad in Spain, with a German roommate.
She moved to Los Angeles after she married a Chinese American man, a former coworker in Japan. In 2004, she started a new life with her husband who decided to study at the University of Southern California and earn an MBA. Her husband's mother was a businesswoman who owned a shop in New York. Growing up watching his mother's hardships, her husband wanted Fumio to be able to stand on her own feet no matter what happened in the future. He drilled the knowledge of how to deal with taxes, real estate and finance into her head.
Life Crushed
Fumio's life seemed to be smooth sailing, and then it all came to a crashing halt. She ended her marriage of over 10 years. She wanted children, but she was unable to conceive, and her fertility treatments failed. Not meeting her mother-in-law's expectations for grandchildren, and her husband's depression also took a toll. Bon Odori helped her overcome the hardships of this period, and she gained strength by becoming a bridge to connect people. The experience also gave her an ability to help others heal.
It was the summer of 2018 when she encountered Kawachi Ondo again. She was asked to gather about 10 people who could dance in yukata, Japanese summer kimono, for a then-80-year-old Minyo master from Osaka who wanted to sing a Kawachi Ondo song at a competition in LA. At that time, Fumio had already emerged as a leader in the Japanese community through active volunteer work while working at a major insurance company. In 2014, she was elected as president of the LA Kansai Club, which has members from the Kansai region (Osaka, Kyoto, Hyogo, and Nara) living in LA as well as people with connections to Kansai. She organized the Club's 50th anniversary commemorative events in 2017. She also conducted a training program for students from Kansai to help them to get experience in the United States. Under her leadership, the club's membership increased.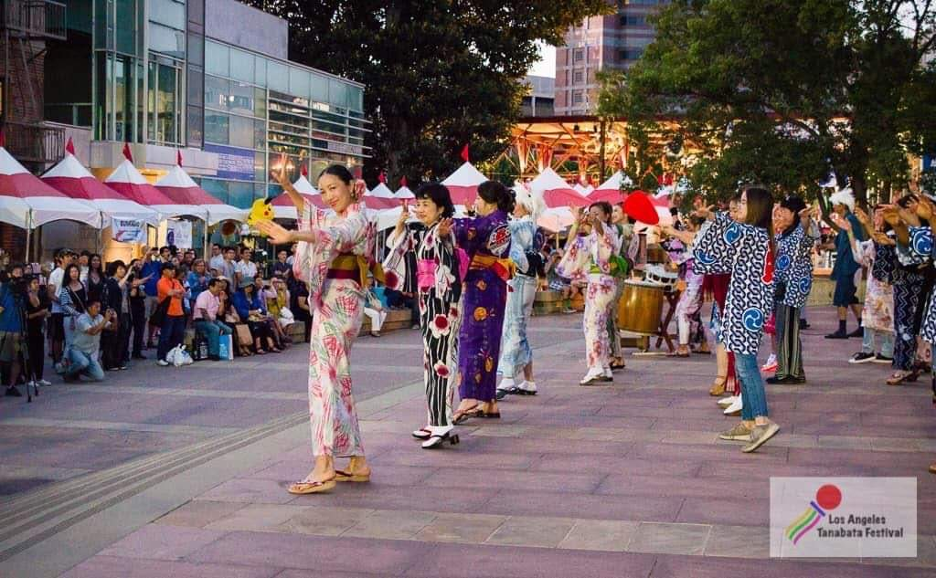 Photo: Team Kawachi Ondo dancing in LA's Little Tokyo
Team Kawachi Ondo came to life
Team Kawachiondo was born from this gathering of dancers. Fumio started the group with the aim of becoming an entertainment band with a singer, taiko drummer, guitar player and 100 dancers. She also put a lot of effort into marketing. Utilizing her skills as a former advertising professional, she worked on building the group's brand recognition through publicity and announcement through social media.
The weekly "Women's Kimono Party" she organized got ever-more popular, and many more women became participants in Bon Odori. Soon, the group received invitations from festivals in Little Tokyo and the Los Angeles Angels baseball team. But as just they started to gain momentum, the COVID pandemic halted all activities. But Fumio didn't want to stop and she started a Bon Odori class on Zoom to create a new network. Through the class, she was able to learn more about a variety of Minyo from different regions. She said her philosophy was "Do what I can do now" to move forward.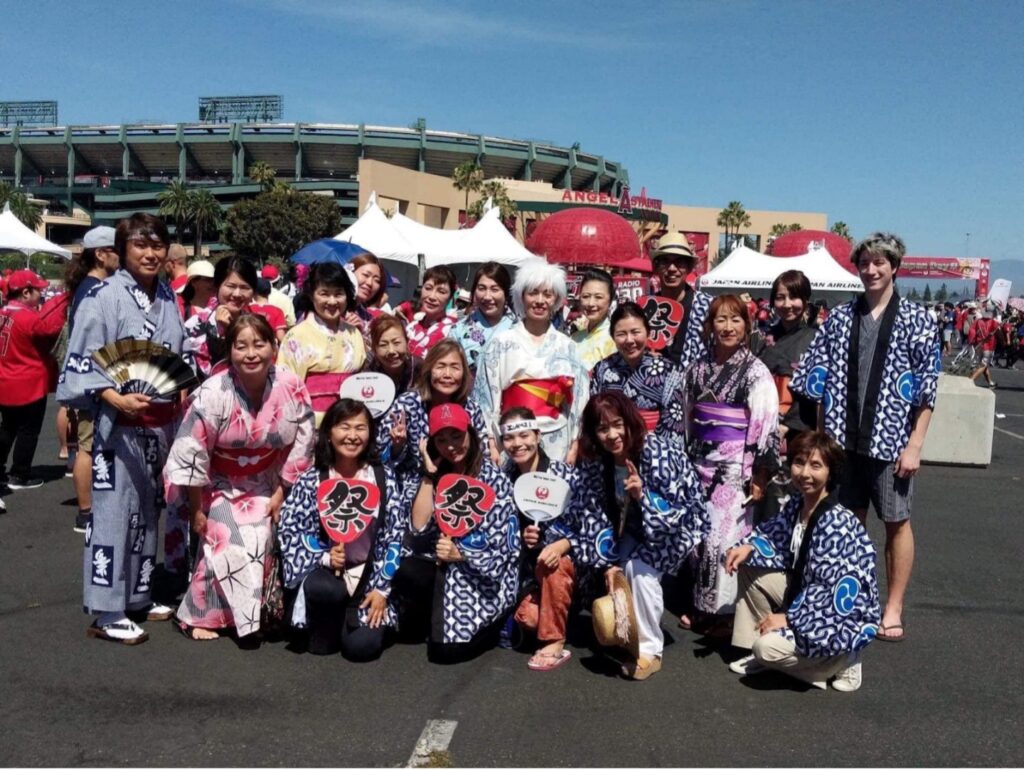 Photo: danced at the LA Angels baseball field (the white-haired woman in the center is Fumio)
Going to Chicago
All that hard work is now bearing fruit. In this year, the Team Kawachi Ondo received an invitation from the Osaka Committee of the Chicago Sister Cities International. It's a request to perform an event commemorating the 50th anniversary of the sister city relationship between Chicago and Osaka. The invitation made her excited but there was a challenge to find dancers who would dance in Chicago. Due to budget constraints the number of dancers coming from LA was limited. She had to recruit dancers in Chicago. Again, her networking effort kicked in. Through SNS and acquaintances, Chicago dancers from Awa Odori team "Mikoren" , Okinawa Kenjinkai and local Japanese Americans offered their support and zoom dance practice had started.
The performance in Chicago was a huge success. The show included not only the traditional Kawachi Ondo but also dances to English funk rhythm music by a former member of a renowned Japanese dance group. The audience got excited and joined the circle of dance. After Chicago, another out-of-state invitation came. This time was from Phoenix, Arizona and looks like more offers are on the way. Her next goal is to dance at the 2025 Osaka Expo in Japan.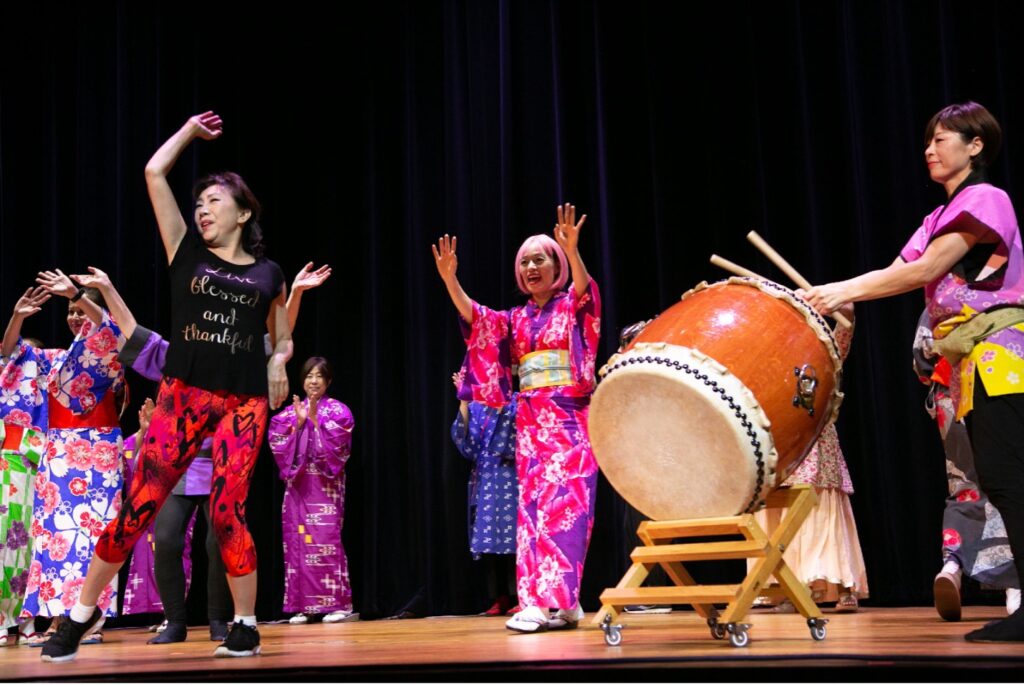 Photo: Chicago Performance (at the Chicago Cultural Center)
Secrets of winning hearts
"If it's for Fumio-san, we'll do it," many people have said. Fumio attracts people around her. How can you win people's hearts? When asked for advice for those who are still building their careers, she said, "Treasure the opportunity to meet new people and try not to forget their names. Greet them properly and make eye contact when you talk." She also said that it's important let go of your ego and figure out your limits and to ask others to do what you can't. "Be grateful. The world goes around because there are people who do what you can't do."
Fumio keeps moving forward. She wants to try traditional Japanese taiko drumming next. She is inspired to help the survivors of the wildfire on Maui, Hawaii, that occurred in August this year. The Maui wildfire was the nation's deadliest blaze in more than a century, and many Bon Odori friends who Fumio met over Zoom were affected. The Japanese temples in Maui, which are the base of the Bon Odori, burned down and there are probably no taiko drums left. Japanese festivals must have taiko drums, so Fumio, wanting to be of some help, is considering launching an initiative to donate a used taiko drum to Maui. To do so, she wants to learn and know more about taiko. It's the same kind of motivation that drove her to learn about Japanese traditional dance to make her Bon Odori moves flow beautifully. It may be the secret of her success to "Dive Deep" into everything.
Fumio added that she also has not given up on her longtime goal of learning Rakugo, the traditional Japanese art of storytelling. She joked, "Maybe I'll start to prevent dementia." There are many of us who are looking forward to seeing what Fumio will do in the next 10 or 20 years.
Team Kawachiondo Facebook Page