TSUNAGU: To Connect: Whether it is connecting employers to job seekers or bringing different cultures together, we at Activ8 value the bridge-builders who make our world a better place every day. Our new series, TSUNAGU, will feature inspirational people who connect North America and Japan through business, education, art, culture and more.
Steven Horowitz, Adjunct Professor of Law and a JET Program Alumni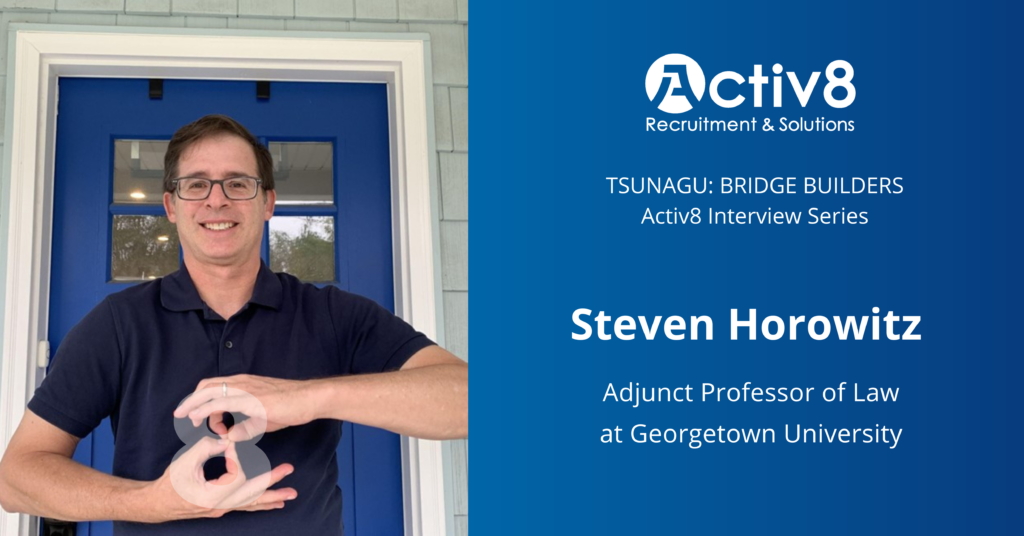 Steven Horowitz is an adjunct professor of law at Georgetown University and a JET Program Alumni. JET stands for the Japan Exchange and Teaching Program, which is a structured organization that was founded by the Japanese government in 1987. The goal of the program is to bring English-speaking teachers to work as Assistant Language Teachers (ALTs) in schools throughout Japan.
After graduating from university in the 1990s, Steven went to Japan, which he only knew as "the land of Godzilla and Ultraman," as a JET English teacher, hoping to experience an unknown culture. After returning from Japan, he joined JETAA (JET Alumni Association), a social group made up of people who have gone through the JET Program, and continues to be actively involved in "connecting people who love Japan."  Steven is a man of ideas who has taken on many unique endeavors, such as launching JETAA's recruitment website. We spoke with him about his career journey that led him to a professorship at Georgetown University, one of America's top law schools, and his advice for success.
The Land of Godzilla and Ultraman
Steven was born in Princeton, New Jersey to his father, who worked in the healthcare field, and his mother, a social worker. He was an active child and good at sports and studies. Growing up, he wasn't particularly interested in Japan. But he was a big fan of "Godzilla" and "Ultraman," which he saw on TV on weekends when he was in elementary school.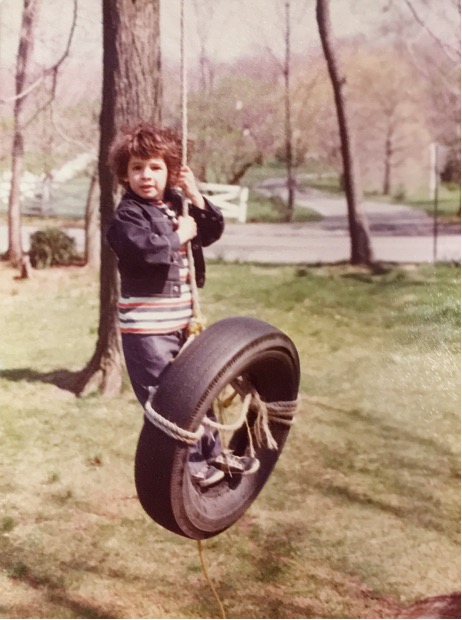 Photo: Active Childhood  
Steven always had a strong desire to go abroad. When he graduated from the University of Pennsylvania, he had the opportunity to watch a VHS video of the JET program and became interested in it. At that time, the Internet was not widespread, and the only way to learn about Japan was through books such as Robert Whiting's "You Gotta Have Wa," which examined Japanese culture through baseball. He liked Japan because of its mysterious nature compared to Europe and applied for the JET program without worrying about salary or other conditions.
Alienation in Japan, an Unknown Country
At the age of 22, he moved to Japan and began teaching junior high school students as a JET English teacher in Kariya City, Aichi Prefecture. He wanted to see an unknown culture and he got it. But he was stunned and confused because it was overwhelmingly different. For the first week, he felt uneasy just walking on the street and felt alienated, feeling like he didn't belong there. To prepare for life in Japan, he had read a book written by a JET Alumni called "Learning to Bow: Inside the Heart of Japan." The book was helpful and gave him perspectives on Japan and what he was experiencing but he still had to struggle.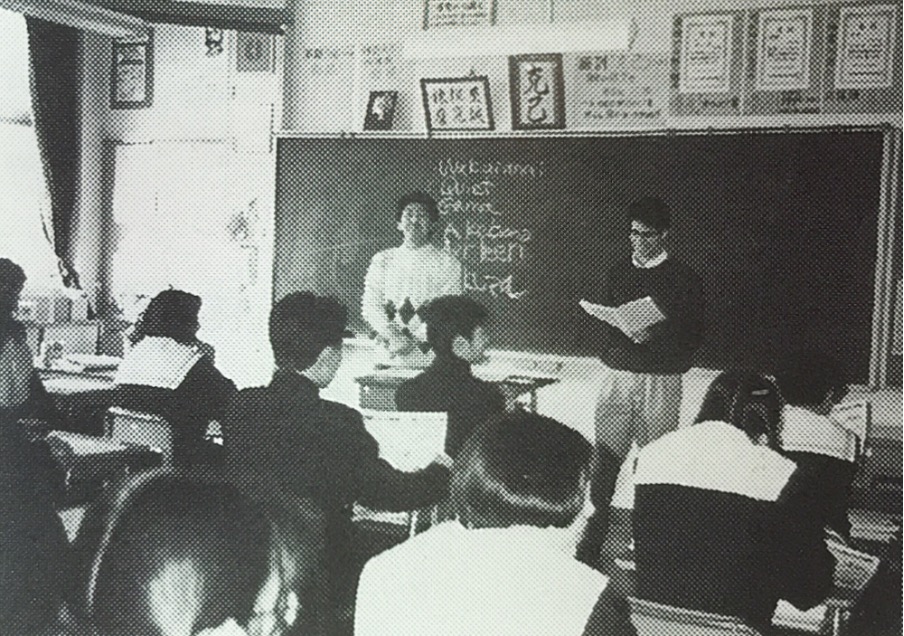 Photo: Taught English at a junior high school in Kariya City, Aichi Prefecture.
First, he had a hard time adjusting to the school where he worked. His work schedule was such that he rotated teaching at six junior high schools in the area. It must have been difficult for him to deepen his relationships with each student and other teachers. What surprised Steven was that students and teachers were cleaning the school. In the United States, there is cleaning staff and it is unthinkable to make students do the cleaning. "I'm a teacher, so why am I cleaning?" He didn't know what to do. Every day he couldn't help feeling uncomfortable, unable to read social cues.
Dump Assumptions
However, over time, his mindset had changed. He started to realize that cleaning the school was about "taking ownership," towards the work and mission. He realized that he had to let go of the assumptions he had about how things should work.
Once you start getting used to Japan, things start to change. One day, he saw a Shorinji Kempo group practicing at a shrine. He approached them and asked them if he could join in their practice. He joined the group and after a while, he was able to participate in tournaments. When there was a match at the junior high school where he taught, his students cheered him on and he won. He successfully became a part of the community. Japan also gave him an opportunity to get to know a wide range of people and expanded his views. Some of his teammates were yakuza members, but they were very kind to him. If he were in America, he would have been much less likely to have had interactions with people like this. After completing the JET Program, Steven returned to his home country and enrolled in law school at Duke University. He says he chose law school not because he was interested in law, but because he didn't know what he wanted to become. While attending school, he did not want to lose his Japanese identity, so he went back to study at Waseda University, and later worked at a Japanese law firm, maintaining contact with Japan.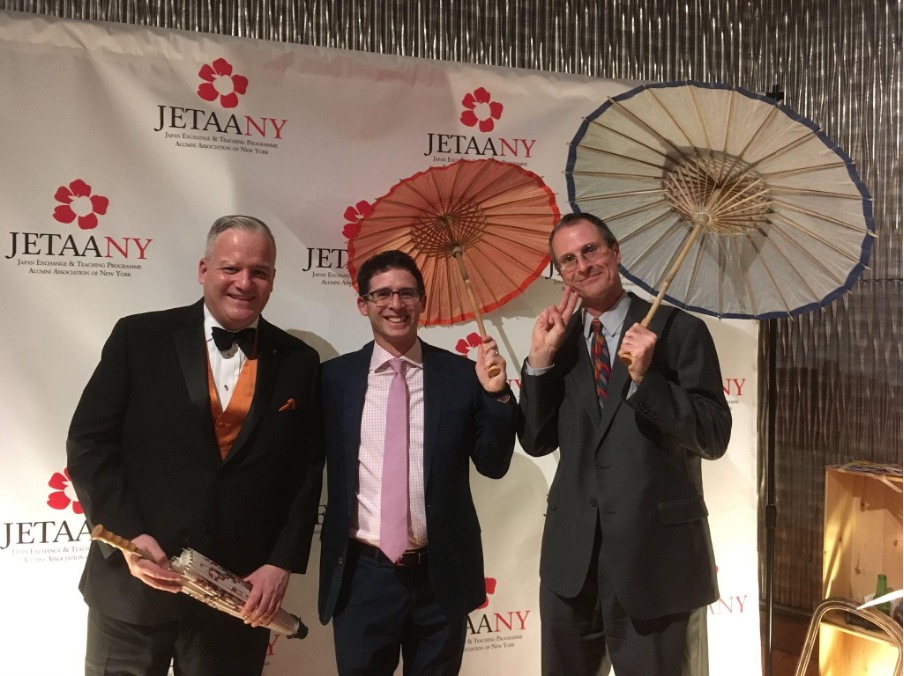 Photo: With members at the JET Alumni Association NY branch
Career Change from Lawyer to ESL
After completing law school, he got a job at a law firm in New York and started a new life there. However, he didn't find his job as a bankruptcy lawyer interesting. His breakthrough came when he joined the JET Alumni Association in New York, which brought him an encounter that led to a career change.
This happened when he served as a moderator for a career discussion session at the JETAA. There, he met a woman who taught English as a Second Language (ESL), and he was inspired to create a career for himself that combined his strengths in law and English education. He acted swiftly. He studied and obtained CELTA (Certificate in Teaching English to Speakers of Other Languages), an ESL English teaching qualification accredited by the University of Cambridge English Language Proficiency Authority in the UK.
The CELTA course was tough as he had classes every day for a month. He learned about classroom management. For example, if a student speaks in a low voice, usually the teacher approaches the student and tries to listen, but this approach may have a detrimental effect on the student's oral communication ability. Instead, a more helpful approach is to not move forward, put his/her hand to his/her ear, and ask the student to say it again a little louder. This helps the student build confidence and also ensures others in the class can hear.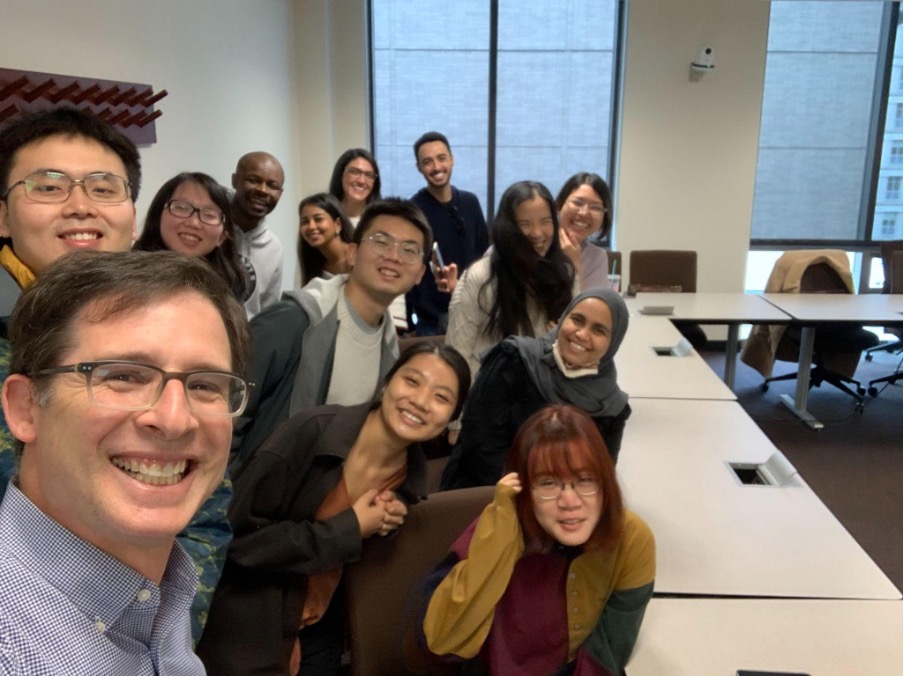 Photo: Georgetown University, with LLM course students
Starting a New Career
After earning his CELTA, Steven got his start as an ESL teacher at City University of New York through the JET alumni network. After that, his knowledge of the law got him another job to teach legal English at Pace University in New York. Back then, there were few people active in the field of legal English ESL education, and Steven was one of the pioneers.
His next challenge was to earn a master's degree in TESOL from Hunter College and look for a new job. TESOL (Teaching English to Speakers of Other Languages) is a learning method for teaching ESL. After he earned his master's degree, he contacted universities around New York to see if they had a need for someone like him, specialized in legal English education. Then, a job offer came from St. John's University in New York that teaches LLM courses. LLM is a program for foreign students aiming to obtain a master's degree in law. After completing it in about one year, students can qualify to take the bar exam in multiple states in the United States. That offer from St. John's became a springboard for him to land another job at the prestigious Georgetown University, which has the largest LLM program in the United States.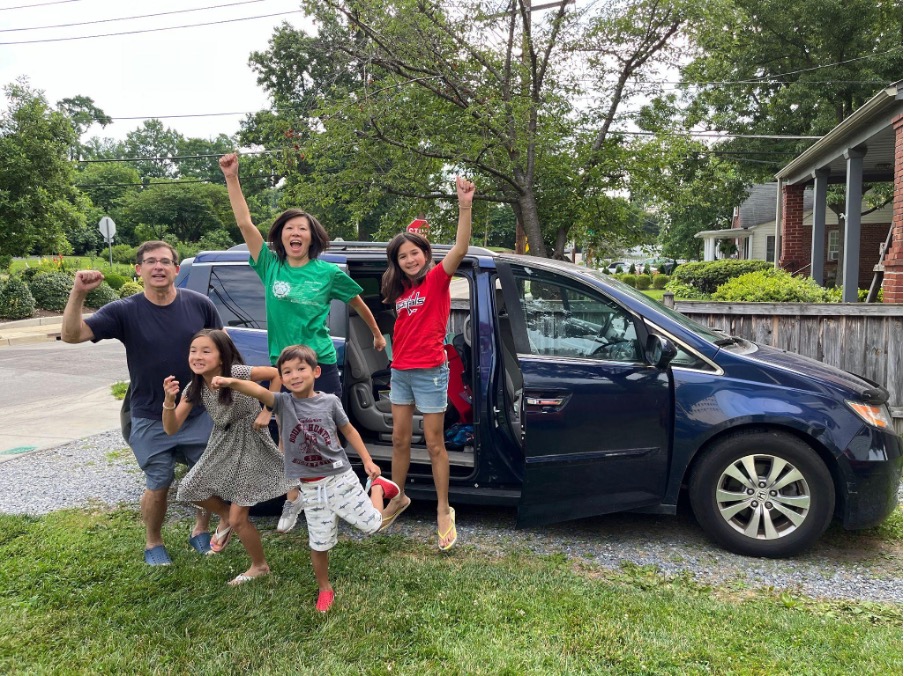 Photo: With family in 2022
It may seem like he had a smooth ride for career advancement, but that's actually not the case. In the beginning of the career change, he lacked confidence as an ESL teacher. The person who changed that was his wife, who is an elementary school teacher. She is very good at opening up children's hearts, and even when the class gets noisy, she calms down the students without raising her voice. She was the one who made him realize that he actually could learn how to teach.
He also suffered a great loss. He lost his first wife to cancer. She gave birth to their  daughter while she was fighting cancer but she was unable to overcome the disease. He says that the experience taught him the importance of "living in the precious moment." Perhaps it was the life lessons he learned from his late wife that led him to keep trying to open new doors to break free from his boring job as a bankruptcy lawyer.
When I asked him what advice he would give to people starting their careers, he replied, "The biggest risk is not taking risks." Instead of staying with the current situation, try jumping off. As they say in Silicon Valley, it's OK to fail and failure is beneficial and necessary. So don't be afraid of it. He emphasizes the importance of taking one step forward.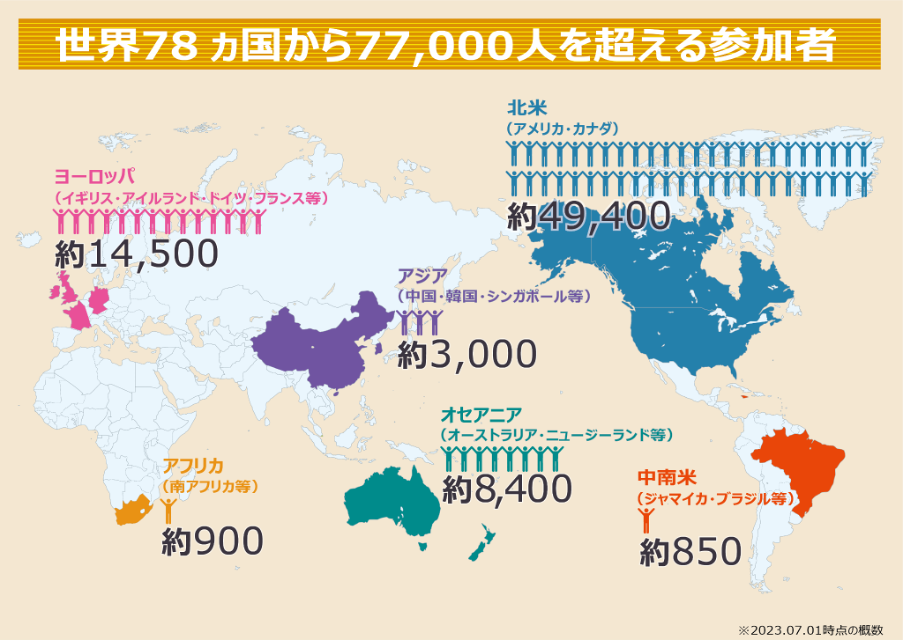 Photo: From the JET Program website
Connect JET alumni around the world to bridge U.S. and Japan
His next goal is to connect JET alumni scattered around the world and serve as a bridge to Japan. Up until now, he worked hard to make the JET Alumni Association more attractive as an organization by launching a recruitment website and fantasy football (a virtual American football game) group. The next project is to create a platform for alumni from all over the world to share their wonderful experiences in Japan and archive those stories. He is also considering starting the "JET Alumni Sister City Project,"  a sister city exchange program in which alumni can make use of their experiences living in Japan. Organizing more than 70,000 alumni from around the world will not be easy. But Steven might pull through. We look forward to his continued success.
RELATED SITE
Georgetown Law: Steven Horowitz