TSUNAGU: To Connect: Whether it is connecting employers to job seekers or bringing different cultures together, we at Activ8 value the bridge-builders who make our world a better place every day. Our new series, TSUNAGU, will feature inspirational people who connect North America and Japan through business, education, art, culture and more.
Paul Virant: Okonomiyaki Ambassador and Michelin star restaurant owner/chef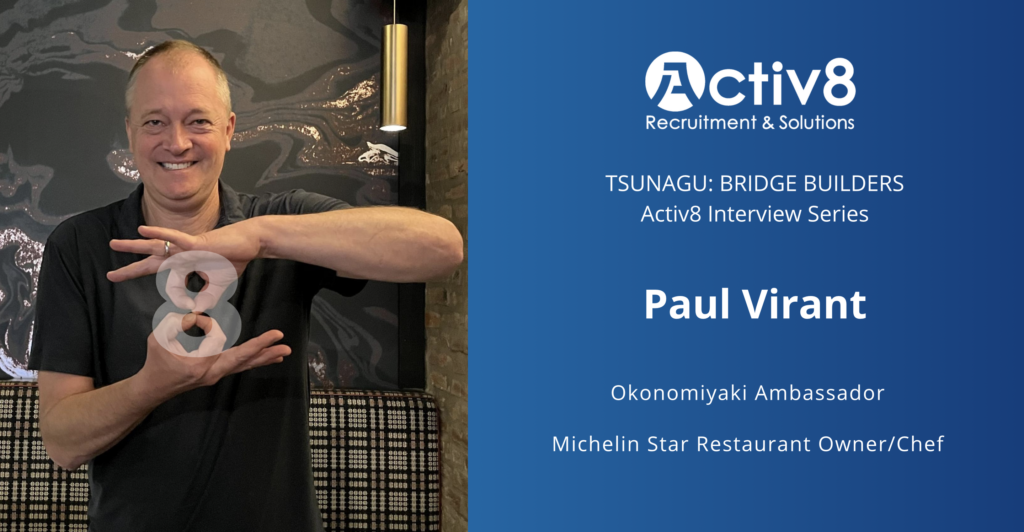 We are pleased to introduce Chicago restaurateur/chef Paul Virant, who calls himself a "Gaijin", who loves okonomiyaki. Originally from St. Louis, Paul trained under legendary chefs in New York and Chicago, and is now a celebrated chef himself who owns three restaurants, including a Michelin-starred restaurant. In 2019, he opened Gaijin, specializing in Osaka's famous okonomiyaki, and currently is launching new initiatives to promote the delicious savory pancakes in the United States. We asked him about his path and secrets to success as a chef and businessman.
Growing Up on a Farm, Encountering Restaurants in High School
Virant grew up in the country outside of St. Louis, Missouri. His parents John and Mary Ann were "kind of hippies" who bought seven acres of land, where they dabbled in homesteading with chickens, pigs and horses. The children grew up surrounded by an abundance of nature, foraging, hiking, and exploring the natural world. His love of food began with his grandparents, who excelled at cooking European cuisine, using fresh meat, vegetables, and milk, and he considered himself very fortunate to have grown up eating seasonal foods and homemade preserves such as pickles and jams.
As a child, he was a self-described "troublemaker," playing soccer whenever he could and displaying little interest in studying. And eventually getting into trouble engaging in typical teenage antics. His first encounter with restaurants came during his high school years when he worked part-time at a French restaurant. He got along well with the chef and the employees, and fell in love with cooking and the culture of the restaurant world. After high school, he wasn't sure what he wanted to do in the future, but became interested in food science because it related to restaurants, ultimately deciding to study nutrition at West Virginia Wesleyan College. In his early twenties, he set a goal of owning his own restaurant.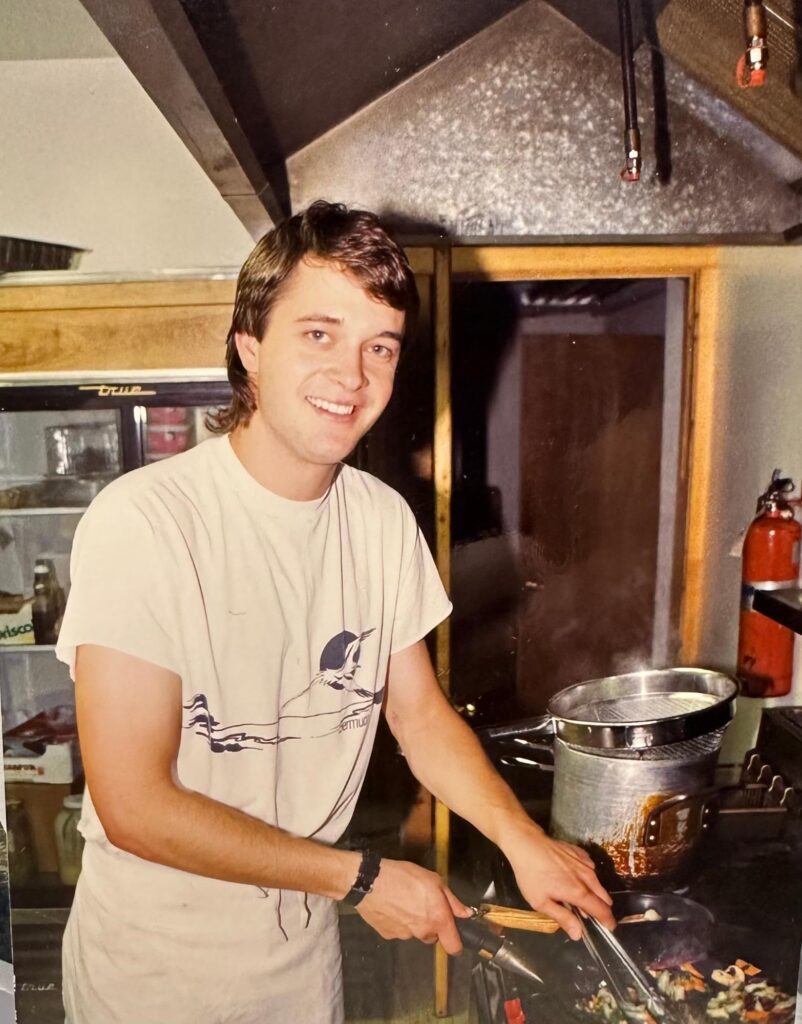 Photo: Paul studied nutrition at West Virginia Wesleyan University
From the Countryside to the City: An Encounter with Ethnic Food
Virant's turning point came when he joined the Culinary Institute of America (CIA), a prestigious school in Hyde Park, New York, that is considered the Harvard of the food service industry. Having grown up in the rural Midwest, Paul's life in New York City was full of surprises. It opened the door to a new world of food.
It was then that he worked for Wayne Nish, a celebrated chef with a Japanese mother, at the upscale restaurant MARCH. Nish took Virant to Chinatown and introduced him to the people at the food store, where he first learned about young ginger and so many different Asian ingredients. Nish's style was American contemporary based on French cuisine, but he used Japanese ingredients like (shoyu) and hijiki. This was only the beginning of Virant's experience with a creative world of food with ingredients he had never seen before. Greatly inspired, he became fascinated with foods from cultures he had never been exposed to at home, and he especially expanded his interest in sour, fermented dishes like Japanese pickles, kimchi from Korean cuisine, and chutneys from Indian cuisine. He was intrigued by the balancing act acidity can play with food.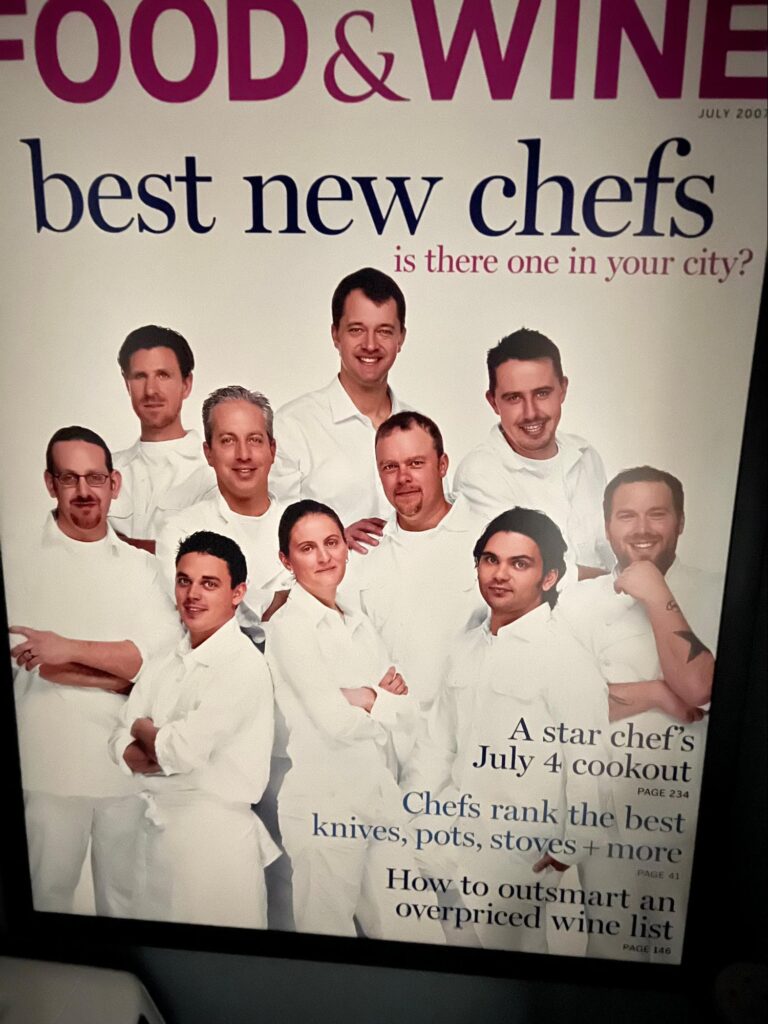 Photo: Voted Best New Chef by a Leading U.S. Food Industry Magazine
Moving To Chicago and Meeting a Legendary Chef
After two years in New York, Virant moved to Chicago. There he met his wife, Jennifer, and worked for the legendary Chicago chef Charlie Trotter. His namesake restaurant, Charlie Trotter's, was one of the top 50 restaurants in the world, and Trotter's death at age 54, followed by the closure of the restaurant after 25 years, was a major news item in mainstream media. Trotter was a formative influence on Virant's development as a chef, along with his time spent at Ambria under Gabino Sotelino and The Everest Room under Jean Joho.
The greatest influence on Virant's style, however, was Paul Kahan, with whom he worked at Blackbird, an American contemporary restaurant that took Chicago by storm. Kahan is the winner of the James Beard Award, often described as the "Academy Award of the American culinary world," and at the time, Blackbird hosted the Salon Series, art-themed dinners featuring a variety of courses. For one, cubist-themed evening, Kahan created a dish of cubed watermelon. Kahan was not only Virant's mentor, but also a fellow chef with whom he engaged in friendly competition.
Photo: VIE Restaurant opened in 2004 and was awarded a Michelin star.
A Dream Come True, a Restaurant Owner At 34 Years Old.
In 2004, Virant's dream came true, and at the age of 34 he opened his first fine dining restaurant, VIE, in the Chicago suburb of Western Springs. Western Springs had banned the sale of alcoholic beverages, a practice dating back to the Prohibition era, but the law was revised in the early 2000s and VIE became the focus of some excitement as the first restaurant to serve alcoholic beverages. The restaurant's original Midwestern cuisine was farm to table, making the most of local ingredients, and it became highly popular, attracting diners from far and wide. VIE has won numerous awards, including a Michelin star in 2011, and its fan base has not diminished in the 20 years since its establishment.
From Western Cuisine to Osaka Street Food
In 2019, Virant opened Gaijin, Chicago's first restaurant specializing in okonomiyaki, near downtown. It has been a big transition going from Western cuisine to Osaka street food. Virant's first encounter with okonomiyaki was with his wife, Jennifer. Now a doctor, Jennifer had studied in Osaka at Kansai University of Foreign Studies and loved okonomiyaki, which she had eaten often. On her first date with Virant, Jennifer asked, "Have you ever had okonomiyaki?" Virant answered, "What's that?" Virant made okonomiyaki himself and served it on their second or third date. It was the 1990s, so there was no ramen boom like there is today. He said, "To be honest, okonomiyaki did not fall into the category of Japanese cuisine (that I was familiar with) as I was working at a high-end French restaurant."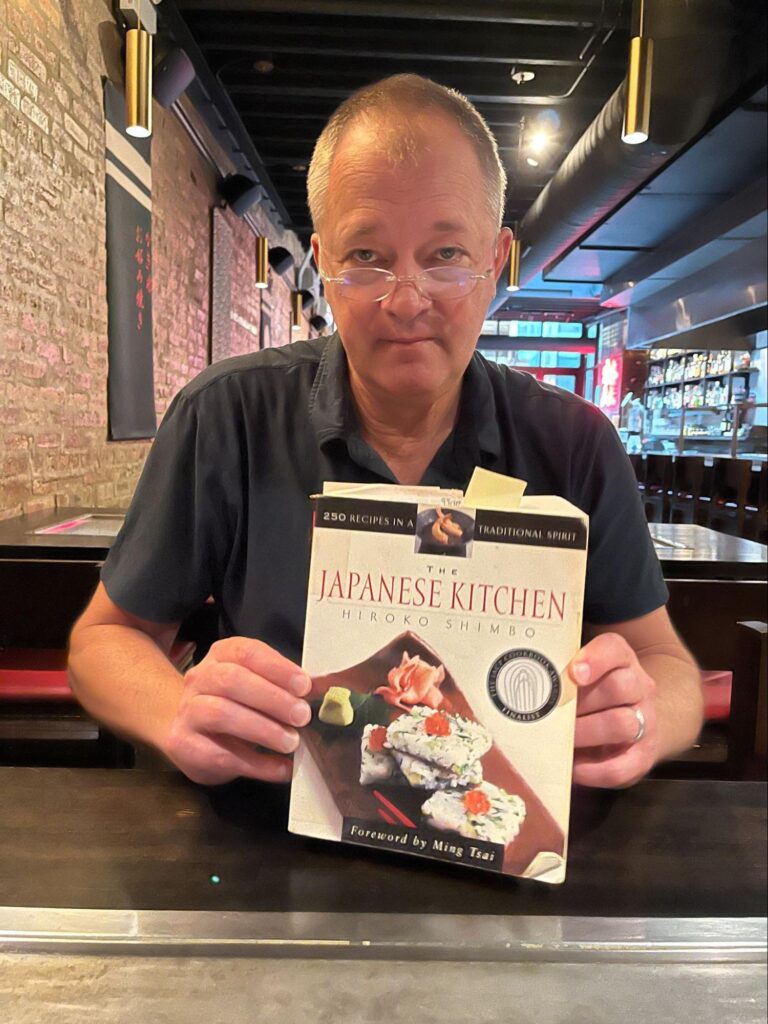 Photo: Virant was inspired after reading an okonomiyaki recipe in a cookbook.
The Journey of Okonomiyaki Exploration Began
Although okonomiyaki wasn't his "Love at First Sight", it was his wife's and it stayed stuck somewhere within him. One day, he came across a cookbook titled "JAPANESE KITCHEN" written by Hiroko Shimbo, a famous Japanese cuisine researcher, and found a recipe for okonomiyaki in it. Inspired, Virant began his journey to explore okonomiyaki. Any chance after that he would attempt to make it for his wife, experimenting with different ingredients and really beginning to appreciate its versatility. In 2018, the year before he opened his restaurant Gaijin, he went to Japan to learn about authentic okonomiyaki. During a visit to the Hiroshima headquarters of Otafuku, famous for its okonomiyaki sauce, Virant attended a cooking class to learn more about Hiroshima-style okonomiyaki.
If you translate okonomiyaki into English, Virant said, it means "As you like" or "whatever you like." In other words, you can use whatever ingredients you want, so the possibilities for creative okonomiyaki are endless. Gaijin's menu features more than 10 different kinds of okonomiyaki. In addition to Osaka-style and Hiroshima-style okonomiyaki, Gaijin also offers unusual options, such as New Orleans-style okonomiyaki with fried shrimp, corn and creole butter.
When opening Gaijin, Virant contacted Hiroko Shimbo, the author of the recipe book, to discuss the name of the restaurant. The name "Gaijin" was to express Virant's humble feeling that he is not Japanese, but an outsider, but loves Japanese food and culture.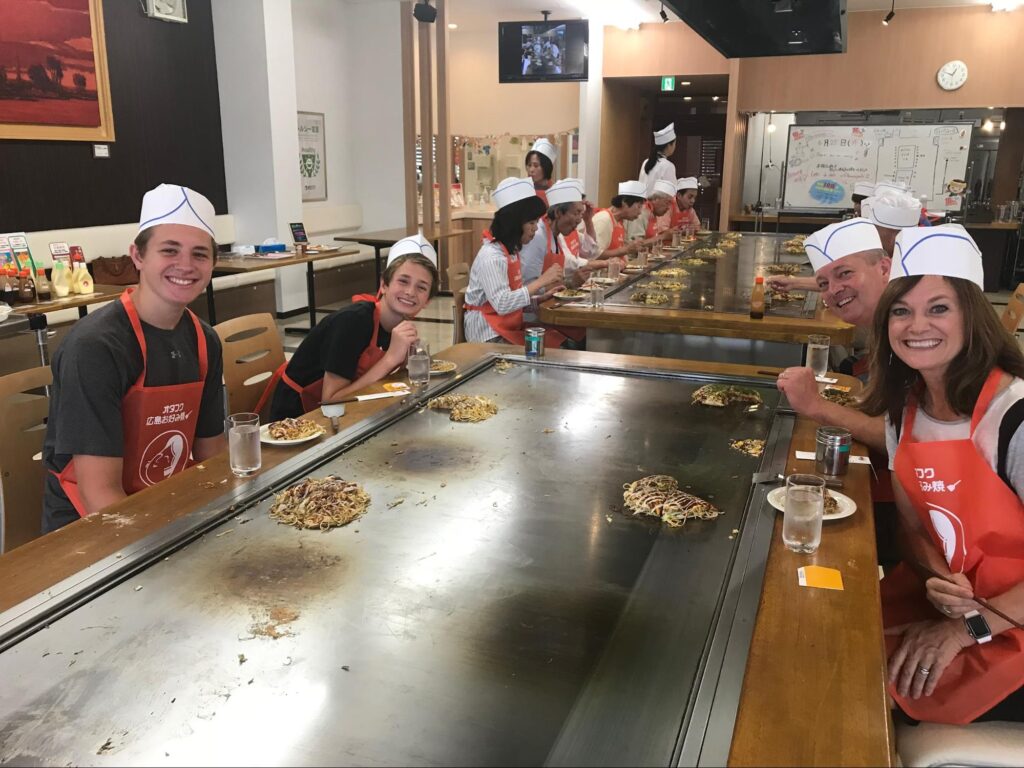 Photo: Participating in an Okonomiyaki Class at Otafuku's Hiroshima headquarters
In order to promote okonomiyaki, Virant has been attending culinary festivals and various events where food connoisseurs gather, such as Chicago Gourmet, to conduct tasting activities. This month, he will join a delegation celebrating the 50th anniversary of the sister city affiliation between the cities of Chicago and Osaka, and will showcase okonomiyaki from the Midwest in a collaborative event with the chef of Osaka's major okonomiyaki chain, Chibo.
Overcame the Same Hardships as President Biden
Virant has never wavered in his path, but when we asked him what has been the biggest challenge in his life, he gave us a surprising answer: "When I was a child, I suffered from a stutter." It is hard to imagine that the well-spoken chef of today had a stutter in the past. It is a well-known story that President Biden was bullied as a boy because of his stutter, and Virant was also embarrassed by his stutter and did not do well in school. It took Virant a long time to overcome his stutter, but he continued to practice reading books aloud in front of his mother and also learned to control his emotions when he was stressed, which caused him to stutter.
He said he is grateful for the opportunity to learn and to understand how people feel after experiencing the pain of stuttering. On this day, while the author was listening to Virant's story, an unhoused man knocked on the locked door asking to use the restroom. Restaurants often refuse to allow non-customers to use the restroom, and even more so if they are closed. However, Virant responded politely and showed the man the restroom. When I said, "You're so kind," he replied with a shy smile, "I still have to be mindful to control my emotions. Sometimes I feel like yelling at the staff."
The Basics of Work and Keeping Promises
When asked what advice he would give to those struggling in their careers, Virant said, "Pursue what you find interesting and passionate about.  Of course, not everyone will have a perfect job with good opportunities, but you do what you have to do in a given place and make the most of it."
He emphasized the importance of being strict with oneself, saying that discipline is an important characteristic. But most important of all, stay humble.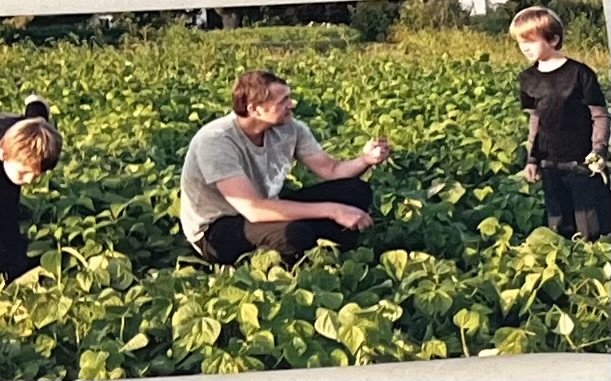 Photo: Paul and his two sons
His Dream is a Farm Restaurant
Virant continues to dream expansively. He wants people to learn about different cultures through food, because it brings people together.
In addition to continuing to spread the word of okonomiyaki, he is opening Petite Vie, a French cafe/brasserie in the Chicago suburbs spring of 2024.And maybe someday he would like to buy farmland like his parents and build a restaurant there, using the vegetables and other ingredients they grow. Perhaps okonomiyaki will be on the menu as well!